Agee, James and Walker Evans, LET US NOW PRAISE FAMOUS MEN. Trade paperback. Mariner Books, 416 pages.

~~~ "Published nearly sixty years ago, Let Us Now Praise Famous Men stands as an undisputed American masterpiece, taking its place alongside works by Henry David Thoreau, Herman Melville, and Walt Whitman. In a stunning blend of prose and images, this classic offers at once an unforgettable portrait of three tenant families in the Deep South and a larger meditation on human dignity and the American soul.
~~~ In the summer of 1936, James Agee and Walker Evans set out on assignment for Fortune magazine to explore the daily lives of sharecroppers in the South. There they lived with three different families for a month; the result of their stay was an extraordinary collaboration, an unsparing record of place, of the people who shaped the land, and of the rhythm of their lives. Upon its first book publication in 1941,
Let Us Now Praise Famous Men was called intensely moving, unrelentingly honest. It described a mode of life -- and rural poverty -- that was unthinkably remote and tragic to most Americans, and yet for Agee and Evans, only extreme realism could serve to make the world fully aware of such circumstances. Today it stands as a poetic tract for its time, a haunting search for the human and religious meaning in the lives of true Southern heroes: in their waking, sleeping, eating; their work; their houses and children; and their endurance.
~~~ With an elegant design and a sixty-four-page photographic prologue of Evans's stunning images, reproduced from archival negatives, the new edition introduces the legendary author and photographer to a new generation. Both an invaluable part of the American heritage and a graceful tribute to the vibrant souls whose stories live in these pages, this book has profoundly changed our culture and our consciousness -- and will continue to inspire for generations to come."


$15.00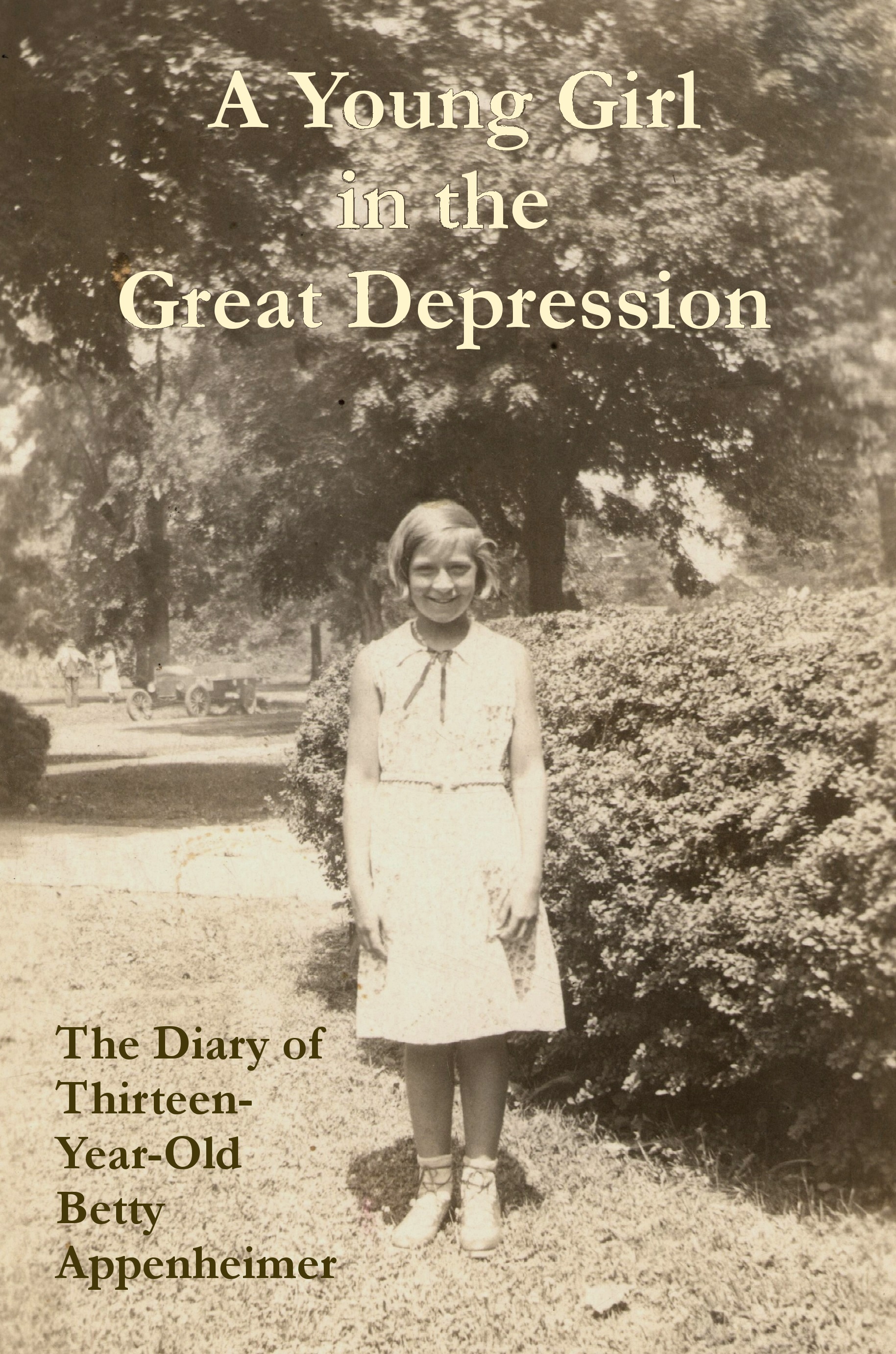 Appenheimer, Betty, A YOUNG GIRL IN THE GREAT DEPRESSION: The Diary of Thirteen-year-old Betty Appenheimer. NEW copy, trade PAPERBACK. (Morgantown: Monongahela Books, 2014). Photographs & illustrations, appendices, notes, 220 pages.

~~~~ It is not often that the diary of a 13-year-old will contain material of lasting interest. We cannot expect thoughtful reflection at such a young age, nor would we expect someone of that age to make a reliable observer of the events and people around her. Yet that is what young Betty Appenheimer has given us in her diary: a concise enumeration of each dayís events and activities, consistently maintained over a period of three years, from 1934 through 1936. The range of these events, as well as the number of persons mentioned, is surprisingly large. Taken as a whole, her diary provides us with a compelling record of a Midwestern farm near the geographic center of the country, during the height of the Great Depression.


$17.50
Long, Frank W., CONFESSIONS OF A DEPRESSION MURALIST. NEW copy, hardcover with dust jacket. University of Missouri Press, 1997. Illustrated, 291 pages.
~~~ "For more than fifty years, Frank W. Long's enchanting murals have graced the walls of post offices and other public buildings throughout the South and Midwest. All of them remain on display. In Confessions of a Depression Muralist, Long interweaves history and anecdote to offer a captivating and colorful memoir of his life as a government artist. 'It was almost by accident that I became a painter of murals',
writes Long. As he struggled to support his easel painting by working as a busboy and a wedding-cake designer, a fortuitous chain of events led to his commission to paint a pair of elaborate murals for a wealthy architect's new home. Although the circus and jungle scenes he created were later featured in American Architect, these murals might have been Long's last had a new government program not offered him an opportunity he could not refuse. In 1932 two influential individuals convinced the U.S. government to establish the Section of Fine Arts under the Department of Treasury. By setting aside a portion of the appropriation for each new government building to pay for custom murals, the Section hoped to develop the first truly American school of painting. From the bohemian atmosphere of Chicago's Towertown to the close-knit Appalachian community of Berea, Kentucky, where Long created his most popular murals, Confessions of a Depression Muralist follows the artist's fascinating career. Filled with Long's recollections of the colorful characters he met along the way, the book illuminates as well the process of mural painting and the artistic challenges of government-sponsored art." ~~~ OUT OF PRINT.


$30.00
Veronico, Nicholas A., Gina F. Morello, Brett A. Casadonte, and Gilda Collins, DEPRESSION-ERA MURALS OF THE BAY AREA. NEW copy, paperback. (Arcadia Publishing, 2014). 123 illustrations, 96 pages.

~~~ The San Francisco Bay Area's art community was thriving until the Great Depression strangled commerce in the 1930s. Pres. Franklin D. Roosevelt's New Deal art programs brought relief to many talented but financially strapped artists. Their legacy, and that of the New Deal, adorns the walls and halls of many public spaces throughout the region. Murals cover the lobbies of the Coit Memorial Tower, the Beach Chalet, and the Aquatic Park Bathhouse (today's San Francisco Maritime Museum) and decorate many public schools and post offices. Today, almost all of this wonderful art can be viewed by the public, free of charge.


$23.00
Davis, Anita Price, GEORGIA DURING THE GREAT DEPRESSION: A Documentary Portrait of a Decade. NEW copy, trade PAPERBACK. (McFarland, 2008). 208 photos, appendices, notes, bibliography, index, 304 pp.
~~~~ During the Great Depression, U.S. Assistant Secretary of Agriculture Rexford Tugwell and his former Columbia student Roy Emerson Stryker spearheaded an effort to create a photographic portrait of the nationís people and places. The result was a federal commission given to a number of photographers who traveled throughout the country to record the pride and perseverance, strengths and weaknesses of the people. Resulting in more than 2,500 photographs in Georgia alone, this project created a visual record of an influential period of American history. This pictorial album relies on the little-known pictures from this federal commission along with picture postcards, personal pictures and memorabilia, written records, and interviews to record and reconstruct a tale of the stateís resources, people, education, health, housing, labor and entertainment. The effects of President Rooseveltís New Deal programs are also emphasized. An appendix provides short biographies of ten federally commissioned photographers who worked in Georgia, including Carl Mydans, Dorothea Lange, Walker Evans, Jack Delano and Esther Bubley.


$40.00
Davis, Anita Price, NORTH CAROLINA DURING THE GREAT DEPRESSION: A Documentary Portrait of a Decade. NEW copy, trade PAPERBACK. (McFarland, 2007). 200 photos, appendices, bibliography, index, 263 pp.
~~~~ Through interviews with survivors of the Depression, the use of photographs taken by Federally supported photographers (many reproduced here) and research into the history of the period, the work provides an accurate and even uplifting portrait of the people of the Mountains, Piedmont and Coastal areas of North Carolina in the 1930s. The chapters include examinations of the industries and natural resources of North Carolina during the Depression, as well as information on the education, health, population, labor, governorships, housing and entertainment of the time. The effects of the New Deal Programs and other important historic events are discussed. The work includes 200 photographs to complement interviews with North Carolina natives about their experiences, as well as appendices, a bibliography, and an index covering important federal photographers in North Carolina during the Great Depression.


$42.00