Evans, Walker, and James Agee, LET US NOW PRAISE FAMOUS MEN. VG/VG. Hardcover with dust jacket. (NY: Houghton Mifflin, 2000). Reprint edition. 432 pages.


~~~ In the summer of 1936, James Agee and Walker Evans set out on assignment for Fortune magazine to explore the daily lives of sharecroppers in the South. There they lived with three different families for a month; the result of their stay was an extraordinary collaboration, an unsparing record of place, of the people who shaped the land, and of the rhythm of their lives. Upon its first book publication in 1941,
Let Us Now Praise Famous Men was called intensely moving, unrelentingly honest. It described a mode of life -- and rural poverty -- that was unthinkably remote and tragic to most Americans, and yet for Agee and Evans, only extreme realism could serve to make the world fully aware of such circumstances. Today it stands as a poetic tract for its time, a haunting search for the human and religious meaning in the lives of true Southern heroes: in their waking, sleeping, eating; their work; their houses and children; and their endurance.
~~~ With an elegant design and a sixty-four-page photographic prologue of Evans's stunning images, reproduced from archival negatives, the new edition introduces the legendary author and photographer to a new generation. Both an invaluable part of the American heritage and a graceful tribute to the vibrant souls whose stories live in these pages, this book has profoundly changed our culture and our consciousness -- and will continue to inspire for generations to come."


$25.00
Long, Frank W., CONFESSIONS OF A DEPRESSION MURALIST. NEW copy, hardcover with dust jacket. University of Missouri Press, 1997. Illustrated, 291 pages.
~~~ "For more than fifty years, Frank W. Long's enchanting murals have graced the walls of post offices and other public buildings throughout the South and Midwest. All of them remain on display. In Confessions of a Depression Muralist, Long interweaves history and anecdote to offer a captivating and colorful memoir of his life as a government artist. 'It was almost by accident that I became a painter of murals',
writes Long. As he struggled to support his easel painting by working as a busboy and a wedding-cake designer, a fortuitous chain of events led to his commission to paint a pair of elaborate murals for a wealthy architect's new home. Although the circus and jungle scenes he created were later featured in American Architect, these murals might have been Long's last had a new government program not offered him an opportunity he could not refuse. In 1932 two influential individuals convinced the U.S. government to establish the Section of Fine Arts under the Department of Treasury. By setting aside a portion of the appropriation for each new government building to pay for custom murals, the Section hoped to develop the first truly American school of painting. From the bohemian atmosphere of Chicago's Towertown to the close-knit Appalachian community of Berea, Kentucky, where Long created his most popular murals, Confessions of a Depression Muralist follows the artist's fascinating career. Filled with Long's recollections of the colorful characters he met along the way, the book illuminates as well the process of mural painting and the artistic challenges of government-sponsored art." ~~~ OUT OF PRINT.


$30.00
Veronico, Nicholas A., Gina F. Morello, Brett A. Casadonte, and Gilda Collins, DEPRESSION-ERA MURALS OF THE BAY AREA. NEW copy, paperback. (Arcadia Publishing, 2014). 123 illustrations, 96 pages.

~~~ The San Francisco Bay Area's art community was thriving until the Great Depression strangled commerce in the 1930s. Pres. Franklin D. Roosevelt's New Deal art programs brought relief to many talented but financially strapped artists. Their legacy, and that of the New Deal, adorns the walls and halls of many public spaces throughout the region. Murals cover the lobbies of the Coit Memorial Tower, the Beach Chalet, and the Aquatic Park Bathhouse (today's San Francisco Maritime Museum) and decorate many public schools and post offices. Today, almost all of this wonderful art can be viewed by the public, free of charge.


$23.00
Blake, James C., UNDER THE SKIN. AS NEW, except for remainder mark. Hardcover with dust jacket. (NY: William Morrow, 2003). FICTION. First Edition. Deckle edged pages. 292 pp.

~~~ James Rudolph Youngblood, aka Jimmy the Kid, is an enforcer, a 'ghost rider' for the Maceo brothers, Rosario and Sam, rulers of 'the Free State of Galveston,' who are prospering through illicit pleasures in the midst of the Great Depression. Raised on an isolated West Texas ranch that he was forced to flee at age eighteen following the violent breakup of his foster family, Jimmy has found a home and a profession in Galveston - and a mentor in Rose Maceo. Looming over Jimmy's story like an ancient curse is the specter of his fearsome father. Their ties of blood, evident since Jimmy's boyhood, have been drawn tighter over time. Then a strange and beautiful girl enters his life and a swift and terrifying sequence of events is set in motion. Jimmy must cross the border and go deep into the brutal and merciless country of his ancestors - where the story's harrowing climax closes a circle of destiny many years in the making.

~~~ Originally published at $25.95.


$19.95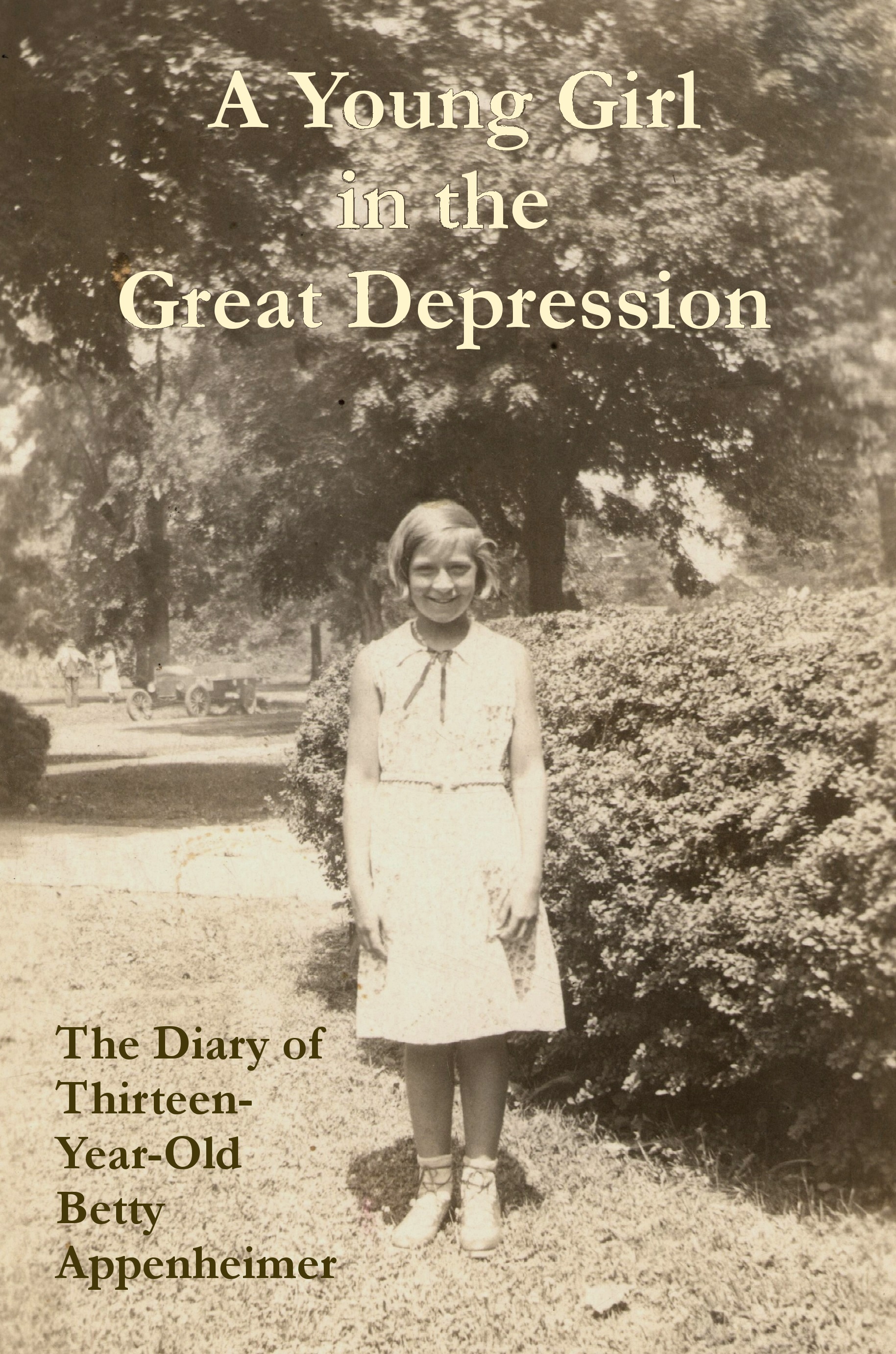 Appenheimer, Betty, A YOUNG GIRL IN THE GREAT DEPRESSION: The Diary of Thirteen-year-old Betty Appenheimer. NEW copy, trade PAPERBACK. (Morgantown: Monongahela Books, 2014). Photographs & illustrations, appendices, notes, 220 pages.

~~~~ It is not often that the diary of a 13-year-old will contain material of lasting interest. We cannot expect thoughtful reflection at such a young age, nor would we expect someone of that age to make a reliable observer of the events and people around her. Yet that is what young Betty Appenheimer has given us in her diary: a concise enumeration of each dayís events and activities, consistently maintained over a period of three years, from 1934 through 1936. The range of these events, as well as the number of persons mentioned, is surprisingly large. Taken as a whole, her diary provides us with a compelling record of a Midwestern farm near the geographic center of the country, during the height of the Great Depression.


$17.50
Brown, Joe D., PAPER MOON. NEW copy, trade paperback. (Four Walls Eight Windows). 309 pages.

~~~ Set in the darkest days of the Great Depression, this is the timeless story of an 11-year-old orphan's rollicking journey through the Deep South with a con man who just might be her father. Brimming with humor, pathos, and an irresistible narrative energy, this is American storytelling at its finest. Paper Moon is tough, vibrant, and ripe for rediscovery.


$13.95
Connell, Kate, HOPING FOR RAIN. NEW copy, trade paperback. (National Geographic Society, 2004), 40 pages.

~~~ Using first person accounts as well as period illustrations and photographs, this book relates the experiences of the Buckler children during the Dust Bowl of the 1930s, while accurately describing its devastating effects on the land and the people.


$6.99
Davis, Lauren B., THE STUBBORN SEASON. NEW copy, trade paperback. (NY: Harper Collins, 2001). FICTION, 341 pages.

~~~ Where does one person end and the other begin? That's the question that haunts Irene, a girl growing up in Toronto during the Great Depression. Living with her father, a pharmacist who finds comfort in the bottle, and her mother, a woman teetering on the edge of her own depression, Irene's crumbling family situation mirrors the economic and social turmoil just beyond the front door of their respectable, working class neighborhood. As she grows into a young woman, Irene finds herself consumed by her mother's increasingly erratic moods and isolated in a world where unemployment, poverty and bigotry have taken firm root. Yet in the midst of lives that seem lost, Irene finds strength in the unlikely form of David, a young man from the Jewish farming community of Sonnenfeld, Alberta, who is fighting his own battle for dignity, hope and a place in the world.

Currently in print at $19.95.


$15.00
Ernst, Lis Campbell, POTATO: A Tale from the Great Depression. NEW copy, TRADE PAPERBACK. National Geographic Society.
~~~ "When Dorothy's father loses his job and cannot find another, the family borrows a car and sets off for Idaho where jobs picking potatoes can be found. This true story gives children a vivid sense of the Depression on a level they can understand. The illustrations, simple and charming, are a perfect match for the story. Ages 4-8."


$7.95
Essley, Roger, and Margot Raven, ANGELS IN THE DUST. NEW copy, trade paperback. (Troll, 1999).

~~~ "Great Grandma Annie reminisces about life on her family's Oklahoma farm during the terrible drought of the 1930s when the region was known as the 'Dust Bowl'. Ages 4-8"


$14.95
Hastings, Robert J., A NICKLE'S WORTH OF SKIM MILK. VG/VG. Some sunning to jacket on spine and a half-inch strip along top of front panel. Book itself is bright & tight. (Southern Illinois University, 1972), Second printing. Illustrated with drawings, 149 pages.

~~~ "Here are nostalgic memories of life in a small town in Illinois during the Depression years, as experienced by a small boy whose father was a miner until he lost his job. The times were hard and money was scarce, but families and neighbors shared hardships and simple pleasures, church and school, fishing, the county fair, the WPA, the lettuce patch, 'visting', birth and death, kites and mumblypeg."


$20.00
Hesse, Karen, OUT OF THE DUST. NEW copy, Hardcover with dustjacket. (Hyperion Books for Children). Winner of the Newbury Medal. 227 pages.

~~~ "In a series of poems, fifteen-year-old Billie Jo relates the hardships of living on her family's wheat farm in Oklahoma during the dust bowl years of the Depression." ~~~ Winner of the Scott O'Dell Award.


$15.95
Hynes, Samuel., THE GROWING SEASONS: An American Boyhood Before the War. NEW copy, trade paperback. (Penguin Books, 2004), 291 pages.

~~~ Looking back with a clear-eyed, unsentimental gaze, Hynes describes his Midwestern boyhood during the lean times of the Great Depression. With eloquence and humor Hynes recaptures the dreams, adventures, sins, and triumphs of his American boyhood in the years of hardship and innocence before the war.


$13.95
Lasky, Kathryn, CHRISTMAS AFTER ALL: The Great Depression Diary of Minnie Swift. NEW copy, hardcover. (Scholastic, 2001). 185 pages.

~~~ "In her fictionalized journal, eleven-year-old Minnie Swift recounts how her family dealt with the difficult times during the Depression and how the arrival of an orphan from Texas changed their lives in Indianapolis just before Christmas 1932."


$10.95
Manos, James, LITTLE ELLIE CLAUS. NEW copy, Hardcover. Atria Books, 245 pages.
~~~ "In the tradition of The Gift of the Magi comes a heartwarming holiday novel to treasure. During the hard times of the Great Depression, newlyweds Peter and Lucy Thompson move to New York City, determined to create a life together. But Peter's promised job is not waiting when he arrives; it has been lost to the financial hardships gripping the city and the nation. But Peter - filled with childlike wonder - never loses hope. Then tragedy strikes, and Lucy is left alone and pregnant. One year later, the penniless young mother makes the painful decision to leave her carefully bundled child on the steps of an orphanage. But Lucy's desperate act on Christmas Eve will set the stage for a miracle so remarkable that it will restore shattered hope and renew faith in the mysterious loving kindness that touches our lives when we least expect."


$15.95
Montgomery, Barbara Venton,
LOVINIA'S CHILD: A Depression Tale.
. NEW copy. TRADE PAPERBACK. Heritage Books, 2005. 106 pages.
~~~ This captivating memoir takes the reader back in time and introduces a memorable cast of characters who played a significant role in the author's young life. This eyewitness account is rich with details of day-to-day life during the hard times and difficult circumstances of the thirties and forties when the Great Depression and World War II framed most people's lives. 'To be Jewish and Native American in or near Chicago in 1938 was difficult, and that is an understatement.' Barbara Venton Montgomery, 'Bub', an intelligent, strong willed child, was abandoned by her father early in her life, and then became a ward of the court during her mother's confinement to a tuberculosis sanitarium. Young Barbara's years in foster care were not uneventful. The author survived her childhood, the Great Depression, and Calumet City, and has preserved the details of her fascinating life that included everything from Al Capone and 'Sin City'; to Grandpa Crawford's house in the Ozarks; to homemade ice cream with Uncle Maple; to her mother's stand against milk dumping; to the charms of the Hupmobile. This tale reminds us that human nature remains much the same, but the minutiae of daily life, conditions in schools, economic challenges, and social values are a reflection of their era and add another dimension to this very readable book.


through
Heritage
Books
Peck, Richard, A LONG WAY FROM CHICAGO. NEW copy, Hardcover. Dial Books, 148 pages.
~~~ "JA boy recounts his annual summer trips to rural Illinois with his sister during the Great Depression to visit their larger-than-life grandmother. Ages 9 to 12."


$15.99
Peterson, Jean White and Kimberly Bulken Root, DON'T FORGET WINONA. . NEW copy, hardcover. (Joanna Cotler Books). 32 pages.
~~~ Peterson's beautiful text and Root's emotionally resonant artwork take readers back in time to the late 1930s in this story of one family traveling along Route 66 on their way to California in hopes escaping the Dust Bowl and starting a better life. (Ages 4 - 8).


$14.99
Porter, Tracey, TREASURES IN THE DUST. NEW copy, trade paperback. Harper Trophy, 148 pages.
~~~ "Eleven-year-old Annie and her friend Violet tell of the hardships endured by their families when dust storms, drought, and the Great Depression hit rural Oklahoma."


$4.95
Stanley, Jerry, CHILDREN OF THE DUST BOWL: The True Story of the School at Weedpatch Camp. NEW copy, trade paperback. Scholastic, 85 pages.
~~~ "Children of the Dust Bowl is the compelling story of the 'Okie' migration to California of the 1930s and of the construction and life of a remarkable school at a farm workers' camp there. Told largely in the words of the migrants themselves, and generously illustrated with period photographs, this memorable book provides a glimpse of a neglected period of American history and tells a story of prejudice being transformed into acceptance and despair into hope."


$9.85
Willis, Patricia, THE BARN BURNER. NEW copy, hardcover with dust jacket. (NY: Clarion Books, 2000). FICTION. 196 pages.

~~~ After a family disagreement, Ross Cooper leaves home with only a knapsack and the clothes on his back. He hopes to find work, but job prospects in the 1930s are dim, especially for someone as young and inexperienced as Ross. His troubles worsen after he is spotted fleeing a burning barn in a Ohio town where a number of barns have gone up in flames. Though a kind but destitute family takes Ross in, he yearns to hit the road again, especially when another barn is set afire and he falls under suspicion. But stronger than his wish to leave is his hope to discover the true identity of the barn burner and clear his name. This moving and fast-paced story captures the spirit of determination and hope boys like Ross needed to survive during the Great Depression.


$15.00
Davis, Anita Price, GEORGIA DURING THE GREAT DEPRESSION: A Documentary Portrait of a Decade. NEW copy, trade paperback. (McFarland, 2008). 208 photos, appendices, notes, bibliography, index, 304 pp.
~~~~ During the Great Depression, U.S. Assistant Secretary of Agriculture Rexford Tugwell and his former Columbia student Roy Emerson Stryker spearheaded an effort to create a photographic portrait of the nationís people and places. The result was a federal commission given to a number of photographers who traveled throughout the country to record the pride and perseverance, strengths and weaknesses of the people. Resulting in more than 2,500 photographs in Georgia alone, this project created a visual record of an influential period of American history. This pictorial album relies on the little-known pictures from this federal commission along with picture postcards, personal pictures and memorabilia, written records, and interviews to record and reconstruct a tale of the stateís resources, people, education, health, housing, labor and entertainment. The effects of President Rooseveltís New Deal programs are also emphasized. An appendix provides short biographies of ten federally commissioned photographers who worked in Georgia, including Carl Mydans, Dorothea Lange, Walker Evans, Jack Delano and Esther Bubley.


$40.00
Davis, Anita Price, NORTH CAROLINA DURING THE GREAT DEPRESSION: A Documentary Portrait of a Decade. NEW copy, trade PAPERBACK. (McFarland, 2007). 200 photos, appendices, bibliography, index, 263 pp.
~~~~ Through interviews with survivors of the Depression, the use of photographs taken by Federally supported photographers (many reproduced here) and research into the history of the period, the work provides an accurate and even uplifting portrait of the people of the Mountains, Piedmont and Coastal areas of North Carolina in the 1930s. The chapters include examinations of the industries and natural resources of North Carolina during the Depression, as well as information on the education, health, population, labor, governorships, housing and entertainment of the time. The effects of the New Deal Programs and other important historic events are discussed. The work includes 200 photographs to complement interviews with North Carolina natives about their experiences, as well as appendices, a bibliography, and an index covering important federal photographers in North Carolina during the Great Depression.


$42.00