| | |
| --- | --- |
| | ~~ British ~~ |
Conscripted June 1916. Served with 11th Leicestershires on the Western Front. Returned to England mid-1917. Trained as officer. Commissioned in 9th Royal Sussex Regiment, returning to Front in April 1918. Finished war as signals officer and temporary captain. Demobilised February 1919. ~~~ War Poets Association
Whelpton, Vivien. RICHARD ALDINGTON: Poet, Soldier, Lover, 1911-29. NEW copy, trade paperback. (Lutterworth Press, 2014). B&w illustrations. 414 pages.

The story of Richard Aldington, outstanding Imagist poet and author of the bestselling war novel, Death of a Hero (1929), takes place against the backdrop of some of the most turbulent and creative years of the twentieth century.
~~~ Vivien Whelpton provides a remarkably detailed and sensitive portrayal of the writer from early adolescence. His life as a stalwart of the pre-war London literary scene, as a soldier, and in the difficult aftermath of the First World War is deftly rendered through a careful and detailed analysis of the novels, poems and letters of the writer himself and his close circle of acquaintance. The complexities of London's Bohemia, with its scandalous relationships, social grandstanding and incredible creative output, are masterfully untangled, and the spotlight placed firmly on the talented group of poets christened by Ezra Pound as 'Imagistes'. The author demonstrates profound psychological insight into Aldington's character and childhood in her nuanced analysis of his post-war survivor's guilt, and consideration of the three most influential women in his life: his wife, the gifted American poet, H.D. (Hilda Doolittle); Dorothy Yorke, the woman he left her for; and Brigit Patmore, his brilliant and fascinating older mistress.
~~~ Richard Aldington: Poet, Soldier and Lover vividly reveals Aldington's warm and passionate nature and the vitality which characterised his life and works, concluding with his triumphant personal and literary resurrection with the publication of Death of a Hero.


$60.00
Wildinson, David. THE DEATH OF A HERO: The Quest for First World War Poet Richard Aldington's Berkshire Retreat. NEW copy, hardcover. (Pen & Sword: September 2016). 40 images and maps. 320 pages.

When David Wilkinson bought a picturesque cottage alongside the Kennet and Avon Canal in Berkshire, he was astonished to learn that the writer Richard Aldington, a WWI veteran, had lived there in the 1920s. In his most famous novel, Death of a Hero (1929), Aldington mourned the loss of a generation of young men in the First World War, while in The Colonel's Daughter (1931), he set out to show the effect of that loss on the young women left behind. Intrigued, Wilkinson decided to trace the people who had inspired this later novel. From servant girls to army officers, he interviewed those who knew and talked freely about Aldington's time amongst them, and the worrying effect that the work had on their lives.
~~~ Aldington had moved on by the time he wrote The Colonel's Daughter, but for those involved the story would prove to be far closer to the truth than was easily palatable. One woman in particular was immediately recognizable and had to live with the consequences of Aldington's story for the remainder of her long life.
~~~ Wilkinson's research led him to shoulder the uneasy truth of his findings, and the mantle of assumed guilt followed him as he discovered, firsthand, the uncomfortable effect of the novel on the village, and on the women of the 'Lost Generation'.


$44.95
| | |
| --- | --- |
| | ~~ German ~~ |
Paul Alverdes (1897-1979) was a German novelist and poet. He volunteered for duty in World War I and received a severe injury to the throat. After 1922 he was a freelance author in Munich, and from 1934 to 1944, along with Karl Benno von Mechow, he edited and published the journal Das innere Reich. Alverdes's work was influenced by the German Youth Movement and by his experiences in the war. After 1945 he mainly wrote stories for children.
Alverdes, Paul. THE WHISTLERS' ROOM. NEW copy, trade paperback. (Casemate, June 2017). "Classic War Fiction" series. 94 pages.

~~~ The Whistlers' Room is the surprisingly gentle, sensitive story of a section in a German hospital where three soldiers try to recover from battle injuries. They are known as the Whistlers, as all were shot in the throat and their breathing results in a sound "like the squeaking of mice". The author vividly captures the strong young men the soldiers used to be and the battered, wounded people they have become. Pointner, whose obstinacy in holding onto an English sniper's cap means he is mistaken for the enemy, is the worst injured of the trio. Kollin continually dreams that he is cured, and for a brief, heartbreaking moment his breathing appears to be free when he awakes. The precarious balance of life in the hospital shifts when Harry, an English prisoner of war, becomes another whistler. His initial reception by the other patients, and his eventual acceptance into their group, reminds us of what must be so blatant day-in day-out in a hospital: men are all the same regardless of the country they fight for.


$12.95
| | |
| --- | --- |
| | ~~ French ~~ |
Henri Barbusse. Fought in Artois with the 231st Infantry regiment. In Jan 1915, near Crouy, more than half his unit was killed in less than a week. Spent 18 months at the front. Twice cited for bravery. Invalided out and discharged in 1917.
"Barbusse, Henri". UNDER FIRE. NEW copy, trade paperback. (Casemate, June 2016). "Classic War Fiction" series. 304 pages.

~~~ Under Fire, first published in French as Le Feu, was one of the first novels about WWI, appearing in December 1916, before the outcome of the war was clear. Set in early 1916, it follows a squad of French volunteer soldiers through the eyes of an unnamed foot soldier, who participates in and also observes the action. It combines soaring, poetic descriptions with the mundane, messy, human reality of soldiers living in their own excrement. Then slowly names and features are given to the men who emerge from the mud as the individual characters emerge, from the dignified leader Corporal Bertrand, to the ebullient Volpatte and the obsessive Cocon. Intermingled with details of how they navigate daily life in the putrefied atmosphere of the trenches are both harrowing descriptions and a political, pacifist argument about this war and war more generally. Caught up in events they cannot control, the soldiers go through their daily routines: foraging for food, reading letters from wives and mothers, drinking, fighting in battle, and in heavily realistic scenes which the novel is noted for, discovering dead bodies in advanced stages of decomposition; the human detritus of a brutal war. Through it all, they talk about the war, attempting to make sense of the altered world in which they find themselves.
~~~ Under Fire drew criticism at the time of its publication for its harsh realism, but won the Prix Goncourt. The original translation by Fitzwater Wray which first appeared in 1917 is published here. It captures the essence of the era; a glossary is also provided to help with unfamiliar vocabulary.


$15.95
Benstead, Charles R., RETREAT: A Story of 1918. NEW copy, trade paperback. (Columbia, SC: University of South Carolina Press, 2008). Joseph M. Bruccoli Great War Series. New introduction by Hugh Cecil, 318 pages.

Retreat, a Story of 1918 by Charles R. Benstead was first published in England in 1930, as the genre of Great War fiction was shifting from positive accounts of combat heroism toward narratives of disillusionment and loss. Benstead's novel spans both phases through its tragic portrayal of an army chaplain driven to madness when his orthodox values hold no sway against the bloody realities of war and through its heartening vision of how devotion to duty can fortify soldiers' sense of purpose and self-worth in the absence of spiritual faith.
~~~ Retreat is based on the author's combat experiences as a British Fifth Army artillery officer during the massive German advance in March 1918, adding historical depth to the literary value of the novel. The book centers heavily on the British retreat as experienced by Padre Warne, an egotistical churchman ill suited to the bitter realities of combat at the front. Warne shepherds a flock whose lack of interest in religion undermines his sense of significance to the war effort; and in the shadow of the overwhelming German army, he finds his faith gives way to fear, rendering him useless and removing even his personal significance to the soldiers. Juxtaposed against Warne is Captain Cheyne, a battle-fatigued soldier who maintains his courage in the face of insurmountable odds through an empowering sense of national duty. In this theater of battle, Benstead captures the cruel injustices of the war as he knew it and the inadequacies of religion to address the harsh circumstances on the front.
~~~ In the new introduction to this edition, war historian Hugh Cecil provides historical context for the novel's plot, a biography of its author, and a survey of the book's critical and controversial reception.


$21.95
| | |
| --- | --- |
| | ~~ American ~~ |
Boyd, Thomas, THROUGH THE WHEAT. (A 1923 novel about the Marines in WWI by one who was there).


$85.00
Boyd, Thomas, THROUGH THE WHEAT . VG/VG. Original "$8.95" price still intact on dust jacket. (Carbondale, IL: Southern Illinois University Press, 1978). One of the Lost American Fiction series edited by Matthew J. Bruccolli. Reprinted from the original Scribners 1923 edition. Unique to this edition: an Afterward by James Dickey. 278 pages.

Through the Wheat was recommended to Scribners by F. Scott Fitzgerald and received highly favorable notice on its appearance from Edmund Wilson, among others. Boyd served with B Company, 1st Battalion, 6th Marines at Belleau Wood, Soissons, St Mihiel and Blanc Mont, where he was seriously gassed. After the war he worked as a journalist and writer, publishing nine books of fiction and history. He died at 37 of a cerebral hemorrhage.


$45.00
[Boyd], Brian Bruce, THOMAS BOYD: Lost Author of the "Lost Generation". . NEW copy. Hardcover with dust jacket. (Akron: University of Akron Press, 2006). First Edition. Chronology, extensive notes, bibliography, index, 188 pages.

The first biography of the author of Through the Wheat, one of the finest WWI novels written by an American. Thomas Boyd served in France with 75th Company, 1st Battalion, 6th Marines from July 1917 to April 1919. He participated in actions in the Verdun trenches, at Belleau Wood, Soissons (where he was awarded the Croix de Guerre), St Mihiel, and Blanc Mont (where he was severely gassed).


$40.00
| | |
| --- | --- |
| | ~~ British ~~ |
Vera Brittain interrupted her studies in English Literature at Somerville College, Oxford, in the summer of 1915 to work as a Voluntary Aid Detachment (V.A.D.) nurse for much of the war, serving in Buxton, London, Malta and France. Her fiancé Roland Leighton, close friends Victor Richardson and Geoffrey Thurlow, and her brother Edward Brittain, were all killed during the war. Their wartime letters to each other form the basis of her book, Letters from a Lost Generation. After the war she gained international prominence both as a writer and a pacifist.
Brittain, Vera, CHRONICLE OF YOUTH. NEW copy. Trade paperback. Phoenix Press, 2003. Photographs, 384 pages.
~~~ Vera Brittain's bestselling Testament of Youth was based on her actual diaries -- which have far greater intimacy and immediacy than the book extracted from them. Beginning in the carefree summer of 1913, she follows the shocking onset of war, and the tragic loss of her brother, her fiancé, and most of their young set in the horror that was WWI. Vera herself abandoned Oxford to train as a nurse, and spent the rest of the War tending the wounded -- including German POWs. Written in London, Malta, and France, they capture all the war's horrors and Brittain's emergence as a committed pacifist.




Farr, Don. NONE THAT GO RETURN: Leighton, Brittain and Friends, and the Lost Generation of 1914-18. NEW copy, hardcover. (Helion and Company, 2014). 50 b&w photos, maps, 8 pages of color photos & maps. 232 pages.

Roland Leighton, Edward Brittain, Victor Richardson and Geoffrey Thurlow, the four subjects of this book, typify the experiences of many in a world turned upside down by the outbreak of the Great War in early August 1914. In the summer of that year they were all on the threshold of entry into Oxbridge. Only days later all thoughts of university had been cast aside by three of them as they sought instead to obtain army commissions with a view to serving as infantry subalterns. Probably the least militant of them, Geoffrey Thurlow, would complete a term at Oxford before following the same path.
~~~ All four were well-educated scions of reasonably prosperous middle-class families. Three of them had the casual self-confidence that such a background usually endowed (the other, Thurlow, was curiously tortured by self-doubt). They would all have absorbed the easy assumptions about Britain's place in the Victorian and Edwardian world even before entering their public schools. There these assumptions would have been reinforced at every turn by a combination of team games, military training and schoolmasterly exhortation. The so-called public school ethos played a major part in inculcating in its students an almost conditioned reflex to any threat to their country's security and honor.



$59.95
| | |
| --- | --- |
| | ~~ British ~~ |
John Buchan wrote for the British War Propaganda Bureau and worked as a correspondent in France for The Times. In 1916 he enlisted in the British Army and was commissioned as a second lieutenant in the Intelligence Corps, where he wrote speeches and communiqués for Sir Douglas Haig. Recognised for his abilities, Buchan was appointed as the Director of Information in 1917, under Lord Beaverbrook.
Buchan, John. BUCHAN'S WAR. NEW copy, trade paperback. (Amberly, 2015). 'Great Writers on the Great War' series. 320 pages.

Although novelist John Buchan spent the First World War serving in a variety of official positions, he also helped to produce a monthly magazine chronicling the history of the war, which was later published in twenty-four volumes as Nelson's History of the War. With his access to secret information about the course of the war, Buchan had a clear grasp of the situation and puts it across to the reader with the skill of a novelist.
~~~ Buchan's War takes us through some of the key events of the war in the words of one of Britain's greatest thriller writers.


$13.00
Buchan, John. THE BATTLE OF THE SOMME. Grosset & Dunlap, 1917. VG. A clean, tight copy with pictorial cover. 34 full- & half-page photographs, 33 maps, showing trenches and natural features, roads, towns, railroads, etc.~ many of them fold-out. Two appendices: "Sir Doublas Haig's Second Dispatch" and "Experiences of the IV German Corps in the Battle of the Somme During July, 1916: General Sixt von Armin's Report". 264 pp. $40.00




| | |
| --- | --- |
| | ~~ French ~~ |
Slightly too young to serve in WWI, Andre Chamson later wrote an analysis of his alienated generation in La Revolution de dix-neuf: A study of after-war mentality in 1919. During the Spanish Civil War, Chamson fought with the republicans against Franco. In WWII, as a director at the Louvre, Chanson was responsible for saving numerous art treasures from the Naziis, including the Venus de Milo. Later in the war he served in the Resistance as a major in the Alsace-Lorraine Independent Brigade, under Andre Malraux.
"Chamson, Andre". ROUX THE BANDIT. NEW copy, trade paperback. (Casemate, October 2016). "Classic War Fiction" series. 112 pages.

~~~ Set deep in the mountains of southern France, this charming short novel tells the story of a man from the Cèvennes Mountains called Roux, who refuses to join the army at the outbreak of war in 1914. Instead, he flees and hides in the hills, only returning occasionally to the farm where he left his mother and sisters. The people of the valley condemn his desertion and they hope the police will find his hideout. But as the months and the years go by, and the horrors of the trenches become known, the local people start to understand Roux's actions. Roux begins to appear in the village more often, helping out and explaining that his decision was taken out of respect for the Bible. His arrest at the end of the War is therefore met with sadness and regret. Chamson explores questions of perception, morality and conscience with a lightness of touch coupled with an atmospheric picture of life in a WWI era rural community.


$15.95
"Chamson, Andre". ROUX THE BANDIT. VG/G. (NY: Charles Scribner's Sons, 1929). First American Edition, with Scribner's imprint. Very good book in a good dust jacket. Mild edgewear and chipping to spine ends and rear panel of jacket, which is in a mylar protector. Book itself is clean, square, unmarked, with no signs of wear. Translated by Van Wyck Brooks. Decorated end pages. 198 pages.


$55.00
| | |
| --- | --- |
| | ~~ British ~~ |
Among his many services to the war effort, Arthur Conan Doyle raised a company of volunteers, Crowborough Company, which was attached to the Sixth Royal Sussex Volunteer Regiment. Although offered command of the company, Doyle, in his mid-50s, insisted on entering the ranks of his company as a private.
Doyle, Arthur Conan. CONAN DOYLE'S WAR. NEW copy, trade paperback. (Amberly, 2015). 'Great Writers on the Great War' series. 160 pages.

When World War One broke out in 1914 Sir Arthur Conan Doyle tried to enlist in the military, despite being 55. His offer was refused, but he was still active in support of his country, setting about to organize defense units comprised of civilian volunteers, and lobbying on behalf of British servicemen to improve their conditions and safety.
~~~ While World War One still raged on Conan Doyle began work on The British Campaign in France and Flanders, originally published in six volumes, from which this single volume is an edited selection. Conan Doyle's patriotism remained, despite the loss in the war of his son, brother and two of his nephews


$13.00
Driscoll, Lt. James R. THE BRIGHTON BOYS AT CHATEAU THIERRY. Juvenile fiction from 1919: the Brighton Boys with the U.S. Marines at Belleau Wood & Bouresches.

For more information..



| | |
| --- | --- |
| | ~~ German ~~ |
Ernst Glaeser (1902–1963) began his writing career as a newspaper journalist in Frankfurt. Though he wrote numerous books, none of his subsequent works achieved the same international acclaim as this, his first novel.
Glaeser, Ernst, CLASS 1902. NEW copy, trade paperback. (Columbia, SC: University of South Carolina Press, 2008). Joseph M. Bruccoli Great War Series. New introduction by Horst Kruse, 344 pages.

An autobiographical novel of youth spent on the German home front during World War I.

~~~~ First published in German in 1928 as Jahrgang 1902, Ernst Glaeser's autobiographical novel centers on the experiences of the narrator, E., and his friends. Born in 1902, E. and his generation come of age during the Great War, but they never know combat because the war ends before they can be drafted. Through their perspectives Glaeser provides glimpses into traumatic times on the German home front.
~~~~ Over the four years covered by the novel, E. witnesses the buildup and deployment of combat troops, the return of the wounded, deaths, hunger, and air raids. All around him, he sees what he comes to think of as the adults' war, tragic events in which he never wishes to participate. His own actions follow a quest for sexual experience and, moreover, the understanding of life he believes will come from such experience. As E. simultaneously spurns the onset of adulthood and yearns for the physical pleasures that might accompany such a transition, his life repeatedly intersects with the war, moving him in and out of dangers and eventually taking his girlfriend Anna from him before they can consummate their relationship. Through the vibrantly detailed episodes that make up the work, Glaeser gives a street-level vantage point on the sufferings of the German civilian population and shows the high cost of war even for those with no direct involvement in its outcome.
~~~~ Deemed "a damned good book" by Ernest Hemingway, Glaeser's work warrants reading today both for its value as a historical document and as a novel of antiwar sentiments from a German perspective. In the new introduction to this edition, Horst Kruse details the reception of the work against the historical backdrop of German novels of the era and the international rise of the antiwar genre in which the work participates.

~~~~ "An almost indispensable piece of raw material for the history of the time."—Manchester Guardian
~~~~ "A study in mass psychology and a plea for pacifism, this novel is the story of a German boy growing up before and during the Great War. The narrator, who is only 12 when the story begins, is a keen observer of life in his small town and the various social levels and political tendencies (from socialist to monarchist) represented there. Though he misunderstands much of what he sees, he is nonetheless a perceptive and often insightful observer of the times. Glaeser's novel is obviously intended as a cautionary tale and as an analysis of German society before the overthrow of the Wilhelmine Empire, destroyed by the Great War and by its own hubris. As such, it deserves a place in WWI literature."—St. Mihiel Trip-Wire
~~~~ "…using ironic innuendo and subtle symbolism to depict the ebb and flow of life on the home front. An antiwar novel, Class 1902 cleverly recreates the false hopes and ambitions of different segments of the German population. No one is spared criticism, from the petty civil servants with their incendiary hypernationalism or the Social Democrats and their grand illusions…. Class 1902 truly stands apart from the bulk of war fiction that became so popular in Weimar Germany. As Kruse notes, it is both an excellent work of literature and a valuable historical document. Depictions of the home front are rarely so layered and authentic."—H-Net Reviews



$21.95
| | |
| --- | --- |
| No photograph of A.D. Gristwood is known to exist. | ~~ British ~~ |
Arthur Donald Gristwood volunteered during the summer of 1915. He served in the 2/5th London Rifle Brigade, arriving in France in January 1917. The 2/5th participated in the fighting around Arras in April and in the attack on Bullecourt and Ecoust-St. Mein in May. They held the line in the Croisilles sector in June and the Beaucamp-Villers-Plouich sector in July, with a number of minor actions and further casualties. In September they participated in Third Ypres, in particular at Menin Road Ridge. Finally, they late October, they were thrown into the hellish mess at Passchendaele. The 2/5th London Rifle Brigade was disbanded in late January 1918, and Gristwood was reassigned to the 10th LRB.

Sometime in October 1917 Gristwood was wounded in the leg, though precisely when and where is uncertain. He was evacuated first to Base Hospital No. 5 at Rouen, then to England. He was wounded a second time in early 1918, though, again, the particulars of when and where are unknown.
(Information from Hugh Cecil, The Flower of Battle and George Simmers' blog, Great War Fiction)
Gristwood, A.D, THE SOMME, including also THE COWARD. NEW copy, trade paperback. (Columbia, SC: University of South Carolina Press, 2006). Part of the Joseph M. Bruccoli Great War Series. Preface by H.G. Wells. New introduction by Hugh Cecil. 208 pages.

Confessional tales of self-preservation by a British foot soldier on the Western Front

"This is the story of millions of men—of millions. This is the war as the man in the street will get if it comes again…. [Gristwood's book] is a living page in the true history of democracy. It is a book that every boy with a taste for soldiering should be asked to read and ponder."—H. G. Wells, from the preface
~~~ First published in London in 1927, The Somme and its companion, The Coward, constitute the only published literary achievements of A. D. Gristwood, a reluctant accountant turned even more reluctant infantryman in the London Rifle Brigade who later fell under the tutelage of master storyteller H. G. Wells.
~~~ Heavily autobiographical and much influenced by Wells's guidance, Gristwood's tales of World War I combat are rife with acts of unheroic self-preservation and colored with the fear, bitterness, and hopelessness that defined the author's wartime experience. The central characters of these accounts are clever outsiders—disillusioned and grim foot soldiers amid foolishly dutiful comrades—who are placed in dire circumstances where survival mandates acts of horrific selfishness in lieu of valor.
~~~ The Somme centers on a futile attack in 1916 during the Somme campaign on the western front. The uncourageous behavior of wounded protagonist Tom Everitt both in and out of combat reflects Gristwood's assessment of the weak mettle of British forces at this stage of the war and also recalls his own actions in the service. In The Coward a soldier commits an act of self-mutilation to escape combat duty, an offense punishable by death, and is haunted first by fear of discovery and later by self-loathing. This is the war as Gristwood experienced it—a dark and desperate theater of pain where only base instincts could get a man out alive.
~~~ This first reissue of The Somme, Including Also The Coward marks the only edition available outside of the United Kingdom and includes a new introduction by Hugh Cecil detailing the author's biography and putting his work into a broader historical and literary context.


$21.95
Gristwood, A.D. THE SOMME, also including THE COWARD NEW copy, trade paperback. (Casemate, June 2016). "Classic War Fiction" series. 320 pages.

The million British dead have left no books behind. What they felt as they died hour by hour in the mud, or were choked horribly with gas, or relinquished their reluctant lives on stretchers, no witness tells. But here is a book that almost tells it……Mr Gristwood has had the relentless simplicity to recall things as they were; he was as nearly dead as he could be without dying, and he has smelt the stench of his own corruption. This is the story of millions of men - of millions.' - ~~H. G. Wells, from the preface.
~~~ In The Somme and its companion The Coward , first published in 1927, the heroics of war and noble self-sacrifice are completely absent; replaced by the gritty realism of life in WWI for the ordinary soldier, and the unflinching portrayal of the horrors of war. Written under the guidance of the master storyteller H. G. Wells, they are classics of the genre.
~~~ The Somme revolves around a futile attack in 1916 during the Somme campaign. Everitt, the central protagonist is wounded and moved back through a series of dressing stations to the General Hospital at Rouen. Both in and out of the line he behaves selfishly and unheroically, but in a manner with which it is hard for the reader not to identify. Based on A D Gristwood's own wartime experiences, critics have said that few other accounts of the war give such an accurate picture of trench life.
~~~ The Coward concerns a man who shoots himself in the hand to escape the war, during the March 1918 retreat - an offense punishable by death. He gets away with it, but is haunted by fear of discovery and self-loathing.


$14.95
| | |
| --- | --- |
| | ~~ British ~~ |
Ronald Gurner was commissioned into the Rifle Brigade and served two years in the trenches before being wounded at Arras. He was awardedthe Military Cross.
Gurner, Ronald. Pass Guard at Ypres. NEW copy, trade paperback. (Casemate, October 2016). "Classic War Fiction" series. 242 pages.

A platoon of inexperienced British soldiers crosses to France, in excited and nervous anticipation of what is to come; they find themselves at Ypres where the battle-weary Allied troops are dug in, and slaughter surrounds them. With their young, upright officer Freddy Mann, they are soon in the thick of it, burying the dead, experiencing the terror of bombardment, being picked off by snipers, with some unable to cope and refusing to go over the top. We see the action through their eyes, from privates to the senior officers of the wider battalion, with a focus on Freddy Mann's journey from idealistic officer barely out of school, to battle-hardened cynic, barely hanging on as those around him are cut down, maimed or crack. Freddy suffers a crisis of faith and loses his belief in the war and everything he once stood for; as he wrestles with his conscience he finds that for all 'always at the end, is Ypres'.


$14.95
| | |
| --- | --- |
| | ~~ British ~~ |
Ivor Bertie GURNEY (1890-1937). Served in 2/5th Battalion, Gloucestershire Regiment.Wounded April 1917. Transferred to the Machine Gun Corps, June 1917, though still attached to the 2/5th Glosters. Gassed at St. Julien, in the Ypres Sector, September 1917. Suffered severe breakdown, June 1918.
Gurney, Ivor, POEMS OF IVOR GURNEY, 1890-1937. VG/VG. (London: Chatto & Windus, 1973). Unclipped dust jacket in mylar protector. First Edition. With an introduction by Edmund Blunden and a bibliographical note by Leonard Clark. Frontispiece photo by Richard Hall. Page-end notes. Index of first lines. 136 pages. A very nice copy.


$35.00
Gurney, Ivor, SELECTED POEMS. (Oxford, 1990). NF. Trade paperback. Crisp, as-new copy. Selected & introduced by P.J. Kavanagh. Chronology. Poems arranged in chronological order, by individual book, as originally published. 141 pages. This edition out of print.


$15.00
| | |
| --- | --- |
| | ~~ British ~~ |
Volunteered for the British Army at the outbreak of war in August 1914. Served in the 9th Battalion, Devonshire Regiment. Stationed in trenches near Festubert from July 1915. Participated in the Battle of Loos. Mentioned in despatches and awarded the Military Cross for holding a captured trench for 36 hours without reinforcements or supplies. Promoted to lieutenant. Held front line trenches at Fricourt from February 1916, then in trenches opposite Mametz in April. Killed opening day of the Battle of the Somme. Buried in Devonshire Cemetery in Mansell Copse.
Zeepvat, Charlotte. BEFORE ACTION: A Poet on the Western Front. NEW copy, hardcover. (Pen & Sword, 2015). 16 pages of b&w prints. 256 pages.

The Great War may have made Hodgson's reputation as a poet but it also killed him. Like so many of his generation he was an unlikely soldier and this first groundbreaking biography explores his early life and his reasons for abandoning it and volunteering for the Army. Today Hodgson is remembered as one of the ill-fated 9th Battalion The Devonshire Regiment whose fate in the opening moments of the Battle of the Somme has become one of the emblematic stories of the most costly day in British military history.
~~~ Before Action draws on Hodgson's own writing and letters of his fellow officers to recreate the life and demise of a volunteer battalion from its formation in 1914 to its virtual destruction. Through their eyes and words we experience war: the Battle of Loos, where Hodgson won the Military Cross and the buildup to the Somme.
~~~
$39.95
| | |
| --- | --- |
| | ~~ British ~~ |
Philip MacDonald served with the British cavalry in Mesopotamia.
Macdonald, Philip. PATROL. NEW copy, trade paperback. (Casemate, October 2016). "Classic War Fiction" series. 246 pages.

'Already loose sand had drifted over the stamped-down square which momentarily had distinguished the subaltern's grave: no there was no sign, no mark, no indication whatsoever. There had been, here, eleven men. Now ten rode away' In the Mesopotamian desert during World War I, the leader of a British patrol is shot and killed, by an unseen enemy. The officer is the only one who knows their orders and has not told anyone else where they are located. From then on the sergeant has to try to lead the men through a hostile desert landscape which is full of invisible Arab snipers. One by one they are picked off, and the group of diverse characters from different backgrounds has to try to come together in order to survive. The decision making process proves far from easy as tensions and prejudices from their former lives come to the fore. This thrilling tale of suspense goes right to the last page and was a best seller in the 1920s. The novel was filmed twice, by Walter Summers (as Lost Patrol in 1929) and by John Ford (as The Lost Patrol in 1934).



$14.95
| | |
| --- | --- |
| | ~~ British ~~ |
Leonard Mann served with the 39th Battalion, 10th Brigade, 3rd Division, AIF, at Ypres and Passchendaele. He joined the 5th Division Engineers in Feb 1918, serving as a sapper. In October 1918 he was transferred to the 8th Field Company.
Mann, Leonard, FLESH IN ARMOUR: A Novel. NEW copy, trade paperback. (Columbia, SC: University of South Carolina Press, 2008). Joseph M. Bruccoli Great War Series. New introduction by Janette Turner Hospital, 349 pages.

Leonard Mann privately published his first novel, Flesh in Armour, in Melbourne in 1932, after he was unable to place it with a publisher in Australia or England. The novel was an immediate success, and Mann was subsequently awarded the Australian Literature Society's gold medal for outstanding book of the year. The book's merits then established, it was republished in England and Australia in 1944.
~~~~ Drawn in part from the author's combat experience in France during World War I, Flesh in Armour is an exploration of the lives of soldiers in the Australian Imperial Force from the Ypres campaign in 1917 until just before the Armistice. The novel follows the actions and evolving attitudes of three soldiers in the same battalion-a naive and handsome raw recruit eager for combat, a schoolteacher whose intellect and anxiety have led to disillusionment, and a courageous warrior-hero who remains undaunted by battle despite being wounded. The novel bears an unmistakable Australian point of view, particularly in its wry sense of humor in spite of the dark subject matter and in its vehement disdain for British commanders.
~~~ Nearly 420,000 Australians enlisted during World War I, and more than half were killed, wounded, or captured. The conflict was the most costly in Australia's history. In the fates of his protagonists-one dies valiantly, one dies in an abject and mentally unhinged state, one survives-Mann pays tribute to the sacrifices of his countrymen and reminds readers of the unforgiving test of character found in war then and now. This edition features a new introduction by Australian-born writer Janette Turner Hospital, who inserts the book into the historical context of AIF combatexperiences and chronicles Mann's military service in the war and literary career thereafter.

Leonard Mann (1885–1981) served in the Australian Imperial Force during World War I and with the Department of Aircraft Production in World War II. He wrote seven other novels.



$21.95
| | |
| --- | --- |
| | ~~ American ~~ |
WILLIAM MARCH, Sgt. Served with 2nd Battalion, 5th Marines, 2d Division A.E.F. Awarded the French Croix de Guerre & the Distinguished Service Cross.
March (Campbell), William, COMPANY K. (An unusual novel of the Marines in WWI by a highly-decorated Marine who was there). First Edition, Smith & Haas, 1933.


March (Campbell), William, COMPANY K. Early reprint edition


| | |
| --- | --- |
| | ~~ British ~~ |
W.F. Morris. Served as major with the 13th Cycle Battalion of the Norfolk Regiment. He was awarded the Military Cross.
Morris, W.F. BEHIND THE LINES. NEW copy, trade paperback. (Casemate, October 2016). "Classic War Fiction" series. 314 pages.

'I never saw the man again, alive or dead. One will say that I saw him only for a moment, that it was misty at the time, and that even I did not recognise the features, covered as they were with grime and stubble. Yet I am sure that the taller of the two ragged civilians I saw in the chalk quarry that misty March morning of 1918 was that Lieutenant Peter Rawley, R. F.A., who the official records stated was killed near Arras the previous autumn.'
~~~~ Behind the Lines is a thriller that follows on from the success of W. F. Morris's first novel, Bretherton: Khaki or Field-Grey? Morris is again concerned with questions of identity, allegiance, chance, concealment and self-discovery. A subaltern is forced to flee when he accidentally kills an overbearing, taunting fellow officer: appearances are all against him and he does not trust to trench justice. He becomes a fugitive and has to join forces with other deserters, lost soldiers and outlaws in a hand-to-mouth existence in the no man's land between opposing forces. A series of adventures and disasters ensue, including capture by the Germans and near death by firing squad. Only his own bravery and the devotion of his fiancé can rescue him from his plight.
~~~~ A contemporary commentator noted that 'in spite of the flood of war books', Morris was able to achieve 'a quite different viewpoint from all the others', and his book was 'an outstanding success'.


$14.95
Morris, W.F. BRETHERTON: Khaki or Field-Grey?. NEW copy, trade paperback. (Casemate, June 2016). "Classic War Fiction" series. 320 pages.

~~~ Towards the end of the war as the Germans are in their final retreat in November 1918, a British raiding party stumbles across a strange and eerie scene in a ruined chateau, under fire. Following the strains of a familiar tune, and understandably perplexed as to who would be playing the piano in the midst of shellfire, they discover a German officer lying dead at the keys, next to a beautiful woman in full evening dress, also deceased. But the officer is the spitting image of G B Bretherton, a British officer missing in action….
~~~ So follows a tale of mystery and identity, first published in 1930, which is not only an authentic account of conditions at the Front, but also a remarkable thriller, with a highly unusual plot, which won Bretherton comparisons to John Buchan and the best of the espionage writers.
~~~ John Squire, the influential editor of the London Mercury said 'of the English war-books, undoubtedly the best is Bretherton.' The Morning Post thought it 'one of the best of the English war novels. I do not expect anything much better.' The Sunday Times pinpointed its dual attraction: it was both 'a mystery as exciting as a good detective story and an extraordinarily vivid account of trench-warfare'.


$14.95
Morris, W.F. "G.B": A Story of the Great War. VG. (NY: Dodd, Mead & Company, 1929). First American Edition of the French novel, Bretherton: Khaki or Field Grey?. Very minor flaws to cover (see photo). Spine very slightly cocked. Small annotation in red ink to upper corner of half-title page, otherwise a clean copy. Decorated end pages. 306 pages. Price as is.


$45.00
Morris, W.F. PAGAN. NEW copy, trade paperback. (Casemate, June 2017). "Classic War Fiction" series. 304 pages.

Charles Pagan and Dick Baron, who served together in WWI, embark on a walking holiday in the Vosges Mountains in France, in 1930. En route they meet Cecil and his sister Clare who is recovering from the loss of her fiancé during the war. Pagan and Baron pitch camp at a guesthouse, but the strange behavior of locals piques their interest in the surroundings: in particular the old battlefield nearby. They express an interest in visiting it and are told by their host in no uncertain terms that it is not the place to go at night. When they discover they have been locked in their bedrooms, the pair lose no time in putting a rope out of the window and shinning down it, intent on exploring the forbidden territory and viewing the apparition Pagan thinks he has glimpsed briefly by moonlight.
~~~~~~~ Pagan, like W. F. Morris's preceding novel Bretherton, is a mystery story, but one which could only have been written as a result of the war. Bretherton himself is mentioned in passing by his brothers in arms. It is exciting, spine-chilling, funny, and romantic, but the Great War taints all these elements like a color filter on a camera. The war is only a decade away and wounds, both mental and physical, are raw. The novel works brilliantly as a thriller in its own right, and but also a commentary on postwar Europe.


$14.95
| | |
| --- | --- |
| | ~~ British ~~ |
Wilfred Owen. Enlisted in the Artists' Rifles Officers' Training Corps in October 1915. Commissioned as a second lieutenant in the Manchester Regiment, June 1916. On 21 October 1915,, While serving at Serre and St. Quentin in January-April 1917, he was injured by an exploding shell from a trench mortar and spent several days unconscious on an embankment lying amongst the remains of one of his fellow officers. Soon afterwards, he was diagnosed with neurasthenia and sent to Craiglockhart War Hospital in Edinburgh., where he met fellow poet Siegfried Sassoon. In late August 1918, Owen returned to the front On October 1st, he led units of the Second Manchesters to storm enemy strong points near Joncourt, an action which earned him the Military Cross, He was killed on November 4th,while leading his men across the Sambre-Oise canal at Ors.
[Owen] Dominic Hibberd, WILFRED OWEN: A New Biography. NEW copy, hardcover with dust jacket. Weidenfeld & Nicolson, 2002. Photographs, appendices, notes, bibliography, index, 424 pages.
~~~ When Wilfred Owen died in 1918 at the age of twenty-five, only five of his poems had been published. Yet he became one of the most popular poets of the twentieth century. He is now Britain's national poet of the Great War, frequently quoted in newspapers, documentary films, and novels. Today his work speaks to many young people more powerfully than any other poetry." Dominic Hibberd's book, based on more than thirty years of wide-ranging research, brings new information and reinterpretation to virtually every phase of Owen's life. Mr. Hibberd sheds fresh light on Owen's family background, education, and struggles with religion. His sexual orientation - for he was indeed gay - is fully discussed for the first time. His army training and experiences on the Western Front in World War are described in vivid detail, using original documents from military archives. Throughout the story the poet steadily develops, from his early devotion to Wordsworth and the Romantics in 1910-1911, through his discovery of the French Decadents in 1914-1915 and his friendship with Siegfried Sassoon in 1917, to the final, superb achievement of the mature 1918 poems.


$30.00
Ralphson, Capt. George H., OVER THERE WITH THE MARINES AT CHATEAU THIERRY


$30.00
| | |
| --- | --- |
| | ~ Austro-Hungarian ~ |
Liviu Rebreanu, one of Romania's most distinguished writers, was born in Transylvania in 1885. Although he intended to study medicine, a lack of money obliged him to enter a military school and he became an officer in the Austro-Hungarian army. It was during this period that he decided to devote his life to writing and in 1908 he obtained his discharge. His first novel appeared in 1920 and was followed by Forest of the Hanged in 1922. He died in 1944; since then his novels have been widely published in Europe, as well as Turkey and China.
Rebreanu, Liviu. FOREST OF THE HANGED. NEW copy, trade paperback. (Casemate, June 2017). "Classic War Fiction" series. 352 pages.

~~~ During the First World War, just behind the eastern front, there was a forest, where Austrians and Hungarians used to hang deserters. To this place came Apostol Bologa, a young Romanian officer eager to serve his country. Born in a Romanian region of Transylvania which was then under Hungarian rule, he had naturally enough joined the Austro-Hungarian army. But soon Romania itself entered the war, and Bologa found himself fighting his own people.
~~~~~ Forest of the Hanged asks a fundamental question about war: namely, why does a man fight? Apostol condemns an officer to death for desertion and attempting to give information to the enemy. He watches the execution of the officer with satisfaction until he witnesses a fellow soldier's grief and pity for the dead man. At this point his world shifts. His growing self-doubt and uncertainty lead him to question beliefs he once held without question. Unprepared for his own reaction when he is once again called to sit on a court martial, he finds that he too must go to the forest.
~~~~~~~ This very rare, richly descriptive novel lays bare the inner conflict engendered by a total war, yet seldom expressed..


$14.95
| | |
| --- | --- |
| | ~~ German ~~ |
Erich Maria Remarque served with the 15th Reserve Infantry Regiment until 31 July 1917, when he was wounded by shrapnel in the left leg, right arm and neck, and repatriated to an army hospital in Germany where he spent the rest of the war.
Remarque, Erich Maria. ALL QUIET ON THE WESTERN FRONT. Fine/Fine. (NY: Little, Brown And Company, 1986). Facsimile of original 1929 edition. Hardcover with dust jacket in mylar protector. 60th anniversary reissue by Book of the Month Club. Grey cloth binding with black and red stamped title on front cover and spine. A near perfect copy. 291 pages.

From the dust jacket: "The German original, "Im Westen Nichts Neues", was published in January and was an immediate success. 100,000 copies were sold in Germany during the first two weeks and the total sale in four months is reported to be more than 400,000. The German critics were most enthusiastic:
~~~ Bruno Frank, in Das Tage Buch, said: "It is unanswerable, it cannot be evaded. It does not declaim, it never accuses, it only represents, and every word flowers in truth. Out of his common grave speaks the Unknown Warrior . . . Let it make its way over thw whole world."
~~~ Erich Koch-Weser, Minister of Justice, said: "Of all the descriptions of the war that I know, this is the most powerful. I repeatedly put it awa y from me, because it moved me beyond measure, but always took it up again, because it held me irresistibly under its spell."
~~~ The English translation by A.W. Wheen was published in London on April 15. Five large editions were immediately required to meet the demand. The English reviews have been laudatory in the extreme. To Quote:
~~~ The Manchester Guardian: "The greatest of all war books."
~~~ The London Times: "It has certain of the marks of genius which transcend nationality. Herr Remarque is undoubtedly a great writer."
~~~ The London Sunday Chronicle: "It is the most wonderful and terrible book that has come out of the War. He writes of war as it is suffered by the common soldier. Here is no glamour, no glory. At last the epic of the lowly soldier in the line, the true story of the world's greatest nightmare."
~~~ And of the translation, The Spectator said: "It is a model of English prose; simple, dignified, and rising at times to a poetic power worthy of the Old Testament."


$40.00
| | |
| --- | --- |
| | ~~ British ~~ |
Isaac Rosenberg. Served with the 12th Bantam Battalion of the Suffolk Regiment. In June 1916, transferred to the The King's Own Royal Lancaster Regiment. Arrived on the Western Front on the 3rd of June. Later that month, temporarily assigned to the 229 Field Company, Royal Engineers. After returning to his old unit in September,he fell sick in October and spent two months in the 51st General Hospital. After release, he was transferred to the 1st Battalion of King's Own Royal Regiment He returned to the front shortly after the beginning of Germany's Spring Offensive. Rosenberg was killed on the night of the April 1, 1918 in the town of Fampoux, north-east of Arras.
[Rosenberg, Isaac], Joseph Cohen, JOURNEY TO THE TRENCHES: The Life of Isaac Rosenberg, 1890-1918. NY: Basic Books, 1975. VG/VG. Jacket price-clipped, otherwise a nice clean copy. Photographs, references, notes, blbiography, index, 224 pages.
~~~ The best biography of one of the major English poets & painters of the First World War, killed in action on the Western Front in early 1918.



| | |
| --- | --- |
| | ~~ British ~~ |
SIEGFRIED SASSOON, 2nd Lt, served with the 3rd Battalion (Special Reserve), Royal Welch Fusiliers. Awarded the Military Cross. A letter sent to his commanding officer with the title "Finished with the War: A Soldier's Declaration" was forwarded to the press and read out in the House of Commons. Rather than being court-martialled for what was widely viewed as an act of treason, Sassoon was declared unfit for service and sent to Craiglockhart War Hospital near Edinburgh, where he was treated for neurasthenia. It was while he was at Craiglockhart that he met Wilfred Owen.
Campbell, Patrick, SIEGFRIED SASSOON: A Study of the War Poetry. NEW copy, trade PAPERBACK. (Jefferson, NC: McFarland & Company, 1999). Frontispiece, notes, bibliography, index 237 pp.
~~~ Through Siegfried Sassoon would argue the point throughout his life, most critics regard his war poetry, written during World War I, as the best of his writings. Like many of his artistic contemporaries, Sassoon embraced the "Great War for Civilization" with great fervor, and it was this passion that he brought to his earliest writings about the war. "Absolution," his first war poem, published in 1915, summed up his feelings: "fighting for our freedom, we are free." ~~~ Fighting on the frontlines, Sassoon soon came to the conviction that his war for civilization was anything but civilized. And thus his writings took on a new tone, courageously denouncing a conflict that was no longer about "defense and liberation" but was for "aggression and conquest." Through primary documents and extensive research, the current work provides critical analyses of Sassoon's war poetry. Detailed examinations of each of the so-called trench poems show how the poet and his poetry were transformed through his wartime experiences and give the rationale for the critical consensus that the Sassoon canon is among the most significant in the literature of modern warfare.


$39.95
Scanlon, William T. GOD HAVE MERCY ON US! (A prize-winning 1929 novel of the Marines in WWI by one who was there).


| | |
| --- | --- |
| | ~~ American ~~ |
~ SOLD ~
Seeger, Alan, POEMS, First Edition, inscribed to a family friend, with photo of Alan as a baby, by Alan Seeger's mother.


| | |
| --- | --- |
| | ~~ American ~~ |
Laurence Stallings. Served as a platoon commander with 3rd Battalion, 5th Marines, 2d Division A.E.F. He was wounded in the Battle of Belleau Wood after charging an enemy machine-gun nest and spent two years recuperating at Brooklyn Naval Hospital. He was awarded the French Croix de Guerre and the Silver Star.
Stallings, Laurence, PLUMES. NEW copy, trade paperback. (Columbia, SC: University of South Carolina Press, 2007). Joseph M. Bruccoli Great War Series. New introduction by George Garrett, 376 pages.

An autobiographical novel of the Great War's aftermath, Plumes is the story of the personal trials of a soldier, returned from the front disabled and disillusioned, and of the wife and child he left behind.
~~~ Like his creator, Laurence Stallings, Richard Plume is a U.S. Marine whose combat injuries ultimately cost him a leg and much faith in his government and society. The novel relegates combat scenes to flashbacks and centers instead on the struggles Richard faces as he tries to carve out a humble but honest existence in postwar Washington, D.C., for his wife, Esme, and son, Dickie.
~~~ Through Richard's tragic experiences, Stallings captures the tenor of the times, the faults and corruption inherent in the administration of veterans' aid, the economic crises faced by returned soldiers, and the personal and social hardships foisted on families in these circumstances. Esme emerges as the novel's heroine, the steadfast wife and mother who must shore up a life shattered by war.
~~~ Plumes was first published in 1924 and reprinted nine times by the following year. This edition is augmented with a new introduction by George Garrett assessing Stallings's literary career and critical reception and with a new afterword by Steven Trout contextualizing the medical and political realities of the novel.



$21.95
JOHN W. THOMASON served as executive officer of 49th Company, 1st Battalion, 5th Marines, 2d Division A.E.F. He was awarded the Navy Cross.
[Tolkien] John Garth, TOLKIEN AND THE GREAT WAR: The Threshold of Middle Earth. NEW copy, trade PAPERBACK. (New York: Houghton Mifflin Co, 2005). Notes, bibliography, index, 416 pages.
~~~ Revealing the horror and heroism Tolkien experienced in the First World War, author John Garth introduces the close friends who spurred Tolkien's mythology to life. He shows how the deaths of two comrades encouraged Tolkien to pursue the dream they had shared. He argues that Tolkien transformed the cataclysm of his generation while many of his contemporaries surrendered to disillusionment.


$14.00
| | |
| --- | --- |
| | ~~ French ~~ |
Roger Vercel saw action with the French Army at Ypres, Champagne, and the Somme. He ended the war on the eastern front, in the Balkans, and remained in military service for a year after the Armistice.
Vercel, Roger, CAPTAIN CONAN NEW copy, trade paperback. (Columbia, SC: University of South Carolina Press, 2008). Joseph M. Bruccoli Great War Series. New introduction by Ted Morgan, 296 pages.

First published in 1934, Roger Vercel's novel Captain Conan was awarded the Prix Goncourt for its unflinching assessment of the toll fierce combat had taken on the youth of France. Largely autobiographical and told from the perspective of a young lieutenant, the book follows the exploits of a French commando unit attacking Bulgarian outposts along the Romanian border. The unit is led by the twenty-three-year-old Captain Conan, a haberdasher's son who finds his calling as a fearless killer ready to crawl through barbed wire and slit the throats of his enemies on midnight raids. Based on Vercel's comrade to whom the book is dedicated, Conan is loyal only to his men, as all notions of patriotism are lost in place of the fraternity and brutality needed for survival and success in this close, bloody combat.
~~~ News of the Armistice is slow to reach the Bulgarian front, and when it comes, it changes little. Conan and his men are redeployed to Bucharest to maintain the peace, but they do more harm than good. For them the city is just another battlefield to be conquered. Conan's soldiers have become murderers, thieves, and rapists, and Conan himself is charged with injuring his lover's husband, a Romanian major. But the major withdraws the charges, and Conan leaves Bucharest when the French are called to combat Lenin and Trotsky's guerrilla forces along the Ukrainian border. Conan and his men, now facing their former Russian allies, have lost all ideals of honorable battle and are reduced to serving as mindless weapons to be moved about on the field. Conan becomes the hero of his final fight, but Vercel shows us that there is no happy homecoming for a trained killer-only isolation,loneliness, and nostalgia for battles Conan never fully understood.

The French novelist Roger Vercel (1894-1957) wrote numerous books, including the maritime tales In Sight of Eden and Tides of Mont St.-Michel.



$21.95
| | |
| --- | --- |
| | ~~ British ~~ |
During the war, HG Wells published extensively on a wide range of subjects related to the war, and toured the French and Italian fronts. In 1917 he served as a member of the Research Committee for the League of Nations. In May 1918 he was appointed to the Advisory Committee to the Director of Propaganda, Lord Northcliffe.
Wells, H.G. Mr BRITLING SEES IT THROUGH. NEW copy, trade paperback. (Casemate, October 2016). "Classic War Fiction" series. 444 pages.

A profound and very human account of the early years of the war, told from the perspective of a father rather than combatants, but no less revealing.

Mr Britling lives in the quintessentially English town of Matching's Easy in Essex. He is a great thinker, an essayist, but most of all an optimist. When war arrives he is forced to reassess many of the things he had been so sure of. The war brings great change - Belgian refugees come with dreadful stories and everywhere it seems there are young men dressed in khaki. The family's young German tutor is forced to head back to Germany, and Mr Britling's seventeen year old son enlists in the Territorials. Day by day and month by month, Wells chronicles the unfolding events and public reaction as witnessed by the inhabitants of one house in rural Essex. Each of the characters tries in a different way to keep their bearings in a world suddenly changed beyond recognition. Tragedy ensues, Mr Britling must wrestle with outrage, grief and attempts at rationalisation as he 'sees it through'.
~~~~ Written in 1916, while the outcome of the war was still uncertain, this is both a fascinating portrait of Britain at war, and a chronicle of events seen from a contemporary perspective, and an insight into H G Wells himself, Mr Britling being a largely autobiographical character.


$14.95
| | |
| --- | --- |
| | ~~ American ~~ |
From the first days of the war, Edith Wharton devoted herself to the Allied cause. She established two organizations for war refugees: the Children of Flanders and the American Hostel for Refugees. She made several visits to the French front, distributing medical supplies and sending dispatches from the front back to American readers, making the case that the United States should enter the war. Among numerous decorations from both Belgium and France, she was awarded the French Legion of Honor in 1917.
Wharton, Edith. FIGHTING FRANCE. NEW copy, trade paperback. (Amberly, 2015). 'Great Writers on the Great War' series. 160 pages.

Edith Wharton, the author of classic novels including The Age of Innocence, was an American living in Paris when war broke out in 1914. In the months that followed, she was one of the few foreigners allowed to travel to the front lines. She wrote a series of articles documenting her travels, always driven to investigate as much as possible, whether sordid hospitals barely removed from the fighting or the singular experience of standing on the front line itself.
~~~ The French soldiers and civilians she met along the way were a constant source of admiration for Edith. These beautifully written reports are a moving tribute both to the nation she loved so well and to her own status as one of the century's greatest writers.


$13.00
Wharton, Edith. THE BOOK OF THE HOMELESS. NEW hardcover. 8.6x11.2. (Calla Editions, 2015). Liberally illustrated. 272 pages.

In the course of fund-raising for Belgian refugees, Edith Wharton assembled this monumental benefit volume by drawing upon her connections to the era's leading authors and artists. The unique compilation forms a "Who's Who" of early 20th century culture, featuring poetry, stories, illustrations, and other contributions from scores of luminaries. Much of the text is presented in both English and French. Includes an Introduction by former U. S. President Theodore Roosevelt.

~~~ Poetry and prose by Marice Barres, Sarah Bernhardt, Laurence Binyon, Paul Bourget, Rupert Brooke, Paul Claudel, Jean Cocteau, Joseph Conrad, Vincent D'Indy, Eleonora Duse, John Galsworthy, Edmund Gosse, Robert Grant, Thomas Hardy, Paul Hervieu, William Dean Howells, General Humbert, Henry James, Francis Jammes, General Joffre, Maurice Maeterlinck, Edward Sandford Martin, Alice Meynell, Paul Elmer More, Comtesse De Noailles, Josephine Preston Peabody, Lilla Cabot Perry, Agnes Repplier, Henri De Regnier, Theodore Roosevelt, Edmond Rostand, George Santayana, Igor Stravinsky, Andre Suares, Edith M. Thomas, Herbert Trench, Emile Verhaeren, Mrs. Humphry Ward, Barrett Wendell, Edith Wharton, Margaret L. Woods, W.B. Y eats
~~~ Illustrations by Leon Bakst, Max Beerbohm, Jacques-Emile Blanche, Edwin Howland Blashfield, Leon Bonnat, P.A.J. Dagnan-Bouveret, Walter Gay, J.L. Gerome, Charles Dana Gibson, Emile-Rene Menard, Claude Monet, Pierre-Auguste Renoir, Auguste Rodin, Theo Van Rysselberghe, John Singer Sargent.


$50.00
[Wharton] Alan Price, THE END OF THE AGE OF INNOCENCE: Edith Wharton and the First World War. NEW copy, hardcover with dust jacket. (St Martin's Press, 1996). Photographs, notes, bibliography, index, 416 pages.

Thoughts of Edith Wharton conjure images of upper-class life in turn-of-the-century New York City: hansom cabs wait curbside in front of Washington Square townhouses; chandeliers glow above the heads of waltzing couples. What does not come to mind immediately is the tough-mindedness of Wharton herself and the efforts she put forth on behalf of others. Alan Price illuminates this side of Wharton in The End of the Age of Innocence: Edith Wharton and the First World War. During World War I, Wharton saved the lives of thousands of Belgian and French refugees. When the war began, the expatriated Wharton and Henry James saw any possible German victory as "the crash of civilization," thus prompting their early involvement in the allied cause. In the opening weeks of the conflict, Wharton wrote war reportage at the front and organized relief efforts in Paris. Before the first year was over, she had created organizations and raised funds for three major war charities that bore her name. As the war sank into a stalemate of trench warfare, Wharton continued to write magazine and newspaper articles, organize fundraising schemes, and rally famous painters, composers, and writers to help sway American popular opinion and raise money for refugees. The End of the Age of Innocence tells the dramatic story of Wharton's heroic crusade to save the lives of displaced Belgians and the suffering citizens of her adopted France.
~~~ Currently in print at $59.95.


$45.00
Wilder, Amos N., ARMAGEDDON REVISITED: A World War I Journal. NEW copy, hardcover with dust jacket. (New Haven: Yale University Press, 1994). First Edition. Maps on endapges, photographs, chronology, notes, index, 168 pages.
~~~ As a young man, Amos Wilder, the distinguished New Testament scholar and poet, served as an ambulance driver and corporal in the Army`s 17th Field Artillery of the 2nd Division during World War I. His journals and letters home (including correspondence with his brother, Thornton Wilder) form the basis of this book of reminiscences about his experiences, one of the few wartime memoirs that eloquently articulates and interprets the common soldier`s point of view.
~~~ Currently in print at $48.00.


$35.00
| | |
| --- | --- |
| | ~~ American ~~ |
2d Lt John Allan Wyeth served as Divisional Translator with 33rd Division, A.E.F, as well as delivering intelligence messages from headquarters to various units along the line by automobile, motorcycle, on horseback and on foot.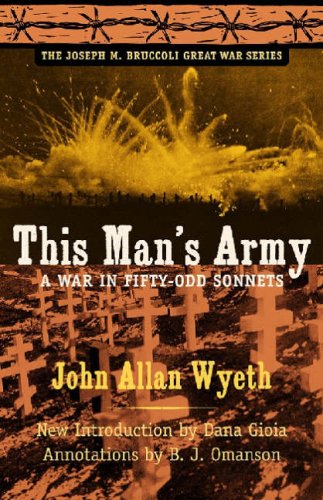 Wyeth, John Allan, THIS MAN'S ARMY: A War in Fifty-Odd Sonnets. NEW copy, trade paperback. (Columbia, SC: University of South Carolina Press, 2008). Joseph M. Bruccoli Great War Series. Introduction by Dana Gioia; annotations by BJ Omanson. Two illustrations, 120 pages.

~~~ First published in 1928, This Man's Army: A War in Fifty-Odd Sonnets is a gripping collection of narrative verse that represents the beginning and end of the promising literary career of John Allan Wyeth, a Princeton-educated French interpreter in the American Expeditionary Force's Thirty-third Division. Though it received strong reviews and enough sales to warrant a trade edition in 1929, the volume faced the insurmountable adversary of the Great Depression, and its author soon vanished from the literary scene. This new edition of This Man's Army restores to print a lost vantage point on the American experience in the Great War as valuable for its high literary merits as for its historical accuracy. The new introduction by Dana Gioia, chairman of the National Endowment for the Arts, chronicles the life of the elusive author and maps the book's critical reception and place in World War I poetry, while new annotations by military historian B. J. Omanson establish the historical context of individual poems.
Wyeth (1894–1981), the son of a prominent New York medical family, had just completed a master's degree in French at Princeton when the United States entered World War I in 1917 and he was motivated into service. His fluency in French garnered him a position in the Interpreters Corps as a second lieutenant in the Thirty-third Division deployed to France and Belgium, and he served in this capacity until his discharge in October 1919. This Man's Army is an autobiographical account of Wyeth's service years, detailing his duties as interpreter, messenger, and occasionally sentry while traveling town by town toward the German Hindenburg line. With an unwavering eye for singular details, Wyeth recounts the devastating effects of modern warfare, the cultural interactions of American and French forces, and the lighthearted camaraderie of soldiers on leave. Although he is keenly aware of the brutality of combat, Wyeth's narrator never doubts the eventual American victory.
The term fifty-odd in the subtitle describes the sonnets both quantitatively—in that there are fifty-five in total—and qualitatively—as Wyeth stretched the traditional form through incorporation of American and British military jargon and Jazz Age slang as well as a new rhyme scheme unprecedented in the seven-century history of the form.
The republication of This Man's Army restores to American historical literature an authentically detailed and imaginatively idiosyncratic vision of the Great War from a remarkable soldier-poet who shares universal truths about warfare as relevant and provocative today as when they were written.
$21.95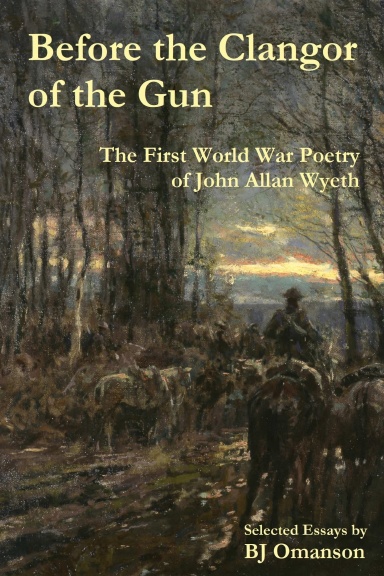 Omanson, BJ, BEFORE THE CLANGOR OF THE GUN: the First World Poetry of John Allan Wyeth. NEW copy. Trade paperback. (Morgantown, WV: Monongahela Books, 2019). Six full-length essays with three appendices. Illustrated throughout. Notes. 119 pages.

This, the first full-length study of the recently rediscovered poet of the First World War, John Allan Wyeth, contains several in-depth studies of the poetry as well as a wealth of new biographical material. Essays include: ~~ John Allan Wyeth: Lost Poet of the Lost Generation. ~~ Artistry & Authenticity in the War Sonnets of John Allan Wyeth. ~~ A Yank at the Battle of Amiens: The Chipilly Ridge Sonnets of John Allan Wyeth. ~~ Wyeth on Horseback ~~ John Allan Wyeth and the British War Poets: A Preliminary Comparison. ~~ Poet, Painter Spy: Did John Allan Wyeth report on Nazi Activities for British Intelligence during the 1930s? ~~ Notes on the Friendship of John Allan Wyeth and Edmund Wilson. ~~ Notes on Wyeth's Years in Rapallo. ~~ The Rediscovery of a Forgotten War Poet: A Personal Account.


$17.50
Yeates, V.M. WINGED VICTORY. NEW copy, trade paperback. (Grub Street, 2004). Originally published 1934. 456 pages.

There is no bitter snarl nor self-pity in this classic novel about the air war of 1914-1918, based very largely on the author's experiences. Combat, loneliness, fatigue, fear, comradeship, women, excitement - all are built into a vigorous and authentic structure by one of the most valiant pilots of the then Royal Flying Corps.World War 1.


$18.95