Anderson, Sherwood
WINESBURG, OHIO
VG/VG. (NY: Modern Library, 1947). 303 pages, plus list of "Modern Library Giants" on final two pages. 211 pages.
~~~ To Sherwood Anderson, more than any other American writer, belongs the distinction of having converted mere sectional writing into a universal experience. As the interpreter of mid-western life, he wrought a change in mood and method that was revolutionary. His masterpiece, Winesburg, Ohio, became the forerunner of a new and vital school of contemporary writing. Its glowing humanity, its inescapable conviction of truth and its brooding, tender insight make it a book by which Anderson has earned a leading rank among the important novelists of America and certainly among the best of our storytellers.




[Kerouac, Ginsberg} Bill Morgan & David Stanford (editors).
JACK KEROUAC & ALLEN GINSBERG: The Letters.
NEW copy, hardcover with dust jacket. (NY: Viking, 2010). 528 pages. 211 pages.
~~~ Writers and cultural icons Jack Kerouac and Allen Ginsberg are the most celebrated names of the Beat Generation, linked together not only by their shared artistic sensibility but also by a deep and abiding friend­ship, one that colored their lives and greatly influenced their writing. Editors Bill Morgan and David Stanford shed new light on this intimate and influential friendship in this fascinating exchange of letters between Kerouac and Ginsberg, two thirds of which have never been published before. Commencing in 1944 while Ginsberg was a student at Columbia University and continuing until shortly before Kerouac's death in 1969, the two hundred letters included in this book provide astonishing insight into their lives and their writing. While not always in agreement, Ginsberg and Kerouac inspired each other spiritually and creatively, and their letters became a vital workshop for their art. Vivid, engaging, and enthralling, Jack Kerouac and Allen Ginsberg: The Letters provides an unparalleled portrait of the two men who led the cultural and artistic movement that defined their generation.

OUT OF PRINT.



$35.00
Burns, Grant.
THE RAILROAD IN AMERICAN FICTION: An Annotated Bibliography
. NEW copy, trade paperback. (Jefferson, NC: McFarland, 2005). Appendix, subject & title indexes..

~~~ Nothing better represented the early spirit of American expansion than the railroad. Dominant in daily life as well as in the popular imagination, the railroad appealed strongly to creative writers. For many years, fiction of railroad life and travel was plentiful and varied. As the nineteenth century receded, the railroad's allure faded, as did railroad fiction.
~~~ Today, it is hard to sense what the railroad once meant to Americans. The fiction of the railroad--often by railroaders themselves--recaptures that sense, and provides valuable insights on American cultural history.
~~~ This extensively annotated bibliography lists and discusses in 956 entries novels and short stories from the 1840s to the present in which the railroad is important. Each entry includes plot and character description to help the reader make an informed decision on the source's merit. A detailed introduction discusses the history of railroad fiction and highlights common themes such as strikes, hoboes, and the roles of women and African-Americans.
~~~ Such writers of "pure" railroad fiction as Harry Bedwell, Frank Packard, and Cy Warman are well represented, along with such literary artists as Mark Twain, Thomas Wolfe, Flannery O'Connor, and Ellen Glasgow. Work by minority writers, including Jean Toomer, Richard Wright, Frank Chin, and Toni Morrison, also receives close attention. An appendix organizes entries by decade of publication, and the work is indexed by subject and title.


$49.95
[Cabell], Edgar E. MacDonald. JAMES BRANCH CABELL AND RICHMOND-IN-VIRGINIA . NEW copy. Hardcover in dust jacket, still in shrinkwrap. (University Press of Mississippi, 1993). 373 pages.

~~~ "Scholars of southern literature of the US will welcome this meticulous and thorough study. Students of southern writers will need this book to understand the development of Cabell's career in the context of his contemporaries, especially Ellen Glasgow. . . . MacDonald does a fine job of explaining that Cabell was more than a writer of fantasies and that his work was grounded in his southernness. Somewhat disappointing, however, is MacDonald's failure to explain just how Cabell influenced great writers such as Faulkner, who are mentioned but not discussed in ways that might illuminate Cabell for readers unfamiliar with his work. As MacDonald admits, Cabell is largely forgotten and thought of as a minor writer, even though in his early career it seemed he would endure as an important figure." OUT OF PRINT.



$45.00
Caldwell, Eskine (Robert L. McDonald, ed).
ESKINE CALDWELL: Selected Letters, 1929-1955
. NEW copy, trade paperback, 6x9. (Jefferson, NC: McFarland, 2012 [1999]). Two photographs, notes, annotated chronology, index. 259 pages.

~~~ "I'm just an ordinary writer," Erskine Caldwell once wrote. "I'm not trying to sell anything; I'm not trying to buy anything. I'm just trying to present my vision of life." Yet his vision of Southern grotesques, of slack-jawed, pellagra-ridden sharecroppers, repressed farmwives, and oversexed nymphets, elicited anything but an "ordinary" response. Hailed by the likes of F. Scott Fitzgerald and Maxwell Perkins, reviled by others as a pornographer or sensationalist, Caldwell was once called "America's most popular author." Once the furor flagged, Caldwell was relegated to the "mansions of subliterature," where his reputation resides today.
~~~ This book contains more than 150 previously unpublished letters, notes, telegrams, and postcards written between 1929 and 1955, at the peak of Caldwell's popularity and influence, all extensively annotated. The introduction assays Caldwell's significance in American popular culture and literary studies and establishes the importance of Caldwell's correspondence as a means of understanding the intentions of a man who was otherwise terse and unforthcoming about his work.


$25.00
[Caldwell] Sylvia Jenkins Cook. ERSKINE CALDWELL AND THE FICTION OF POVERTY: The Flesh and the Spirit. F/F, new, unopened. (Baton Rouge: Louisiana State University Press, 1991). "Southern Literary Studies". Page-end notes, bibliography, index, 301 pp.

" ... the best ... comprehensive study to date of Eskine Caldwell, a significant and neglected author."

(Formerly in print at $41.50, now out of print).


$35.00
Carter, Jared. AFTER THE RAIN. Fine/Fine. Hardcover with dust jacket. Signed by Author. (Cleveland: Cleveland State University Poetry Center, 1993). First Printing. 98 pages.
~~~~~ Originally published at $15, now out of print.


$35.00
Carter, Jared. DARKENED ROOMS OF SUMMER: New and Selected Poems. VG. Trade paperback. (Lincoln, NE: University of Nebraska Press, 2014). Introduction by Ted Kooser. First Printing. 196 pages.


$17.50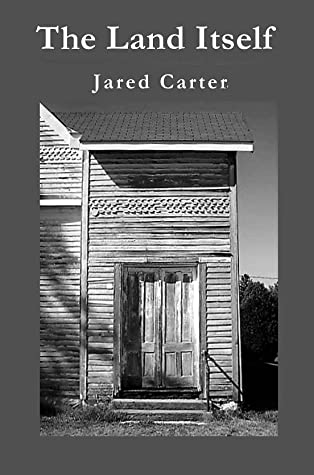 Carter, Jared. THE LAND ITSELF. NEW copy. Trade paperback. (Morgantown, WV: Monongahela Books, 2019). First Edition. Introduction by BJ Omanson. Photographs by author. 98 pages.
~~~~~ "Turning to any of the early and late poems in the current collection, one is struck once again by the assurance and authority in the poet's voice. Carter's descriptions are rendered with a pitch-perfect precision that can only come from long familiarity with his subject. He is a plein-air poet, portraying his region with a sharpness of focus and an eye for inconspicuous but telling detail that cannot be achieved at second-hand."


$15.00
Cather, Willa,
O PIONEERS!
. NEW copy, hardcover with dust jacket. (Everyman's Library, 2011). Introduction by Elaine Showalter, bibliography, 216 pages.

~~~ The novel that first made Willa Cather famous—a powerfully mythic tale of the American frontier told through the life of one extraordinary woman—in a handsome hardcover volume.
~~~ No other work of fiction so vividly evokes the harsh beauty and epic sweep of the Nebraska prairies that Cather knew and loved. The heroine of O Pioneers!, Alexandra Bergson, is a young Swedish immigrant at the turn of the twentieth century who inherits her father's windblasted land and, through years of hard work, turns it into a prosperous farm. Fiercely independent, Alexandra sacrifices love and companionship in her passionate devotion to the land, until tragedy strikes and brings with it the chance for a new life.
~~~ One of our most beloved classics, one of the great heroines of American literature.


$25.00
Dreiser, Theodore,
SISTER CARRIE
. NEW copy, trade PAPERBACK. (Penguin, 1994), 500 pages.
~~~ American writing, before and after Dreiser's time, differed almost as much as biology before and after Darwin," said H. L. Mencken. Sister Carrie, Dreiser's great first novel, transformed the conventional "fallen woman" story into a bold and truly innovative piece of fiction when it appeared in 1900. Naïve young Caroline Meeber, a small-town girl seduced by the lure of the modern city, becomes the mistress of a traveling salesman and then of a saloon manager, who elopes with her to New York. Both its subject matter and Dreiser's unsparing, nonjudgmental approach made Sister Carrie a controversial book in its time, and the work retains the power to shock readers today.


$14.00
Dreiser, Theodore,
SISTER CARRIE, JENNIE GERHARDT, TWELVE MEN
. NEW copy, hardcover with dust jacket. (Library of America, 1987), 1168 pages.
~~~ Sister Carrie traces the fate of a small-town girl drawn into the brutal metropolitan worlds of Chicago and New York. The vital but naive heroine of Jennie Gerhardt emerges superior to the succession of men who exploit her. With honest emotion and respect for unvarnished truth, Twelve Men muses on the lives of ordinary men in search of lasting values with which to face the new century.


$40.00