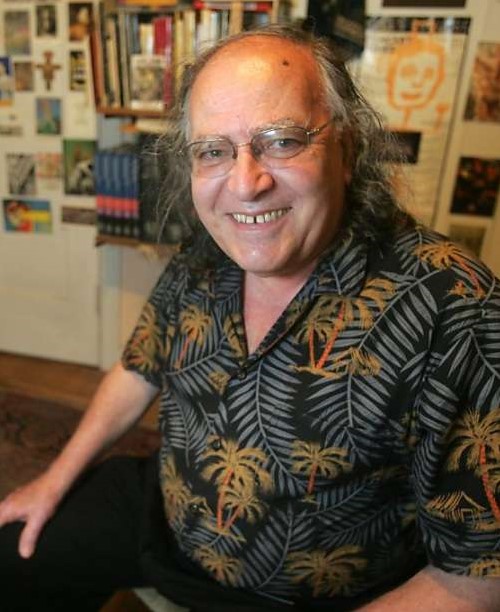 Jack Foley
John Wayne Harold "Jack" Foley was born in Neptune, New Jersey in 1940, the son of John Foley, an Irish-American vaudeville singer, dancer, and songwriter who, after a theatrical career, managed a Western Union Office. Foley's mother, Joanna Teriolo, was Italian-American. This mixed heritage, plus his Catholic upbringing in Port Chester, New York, helped shape a man of complex identity. "My pattern," he would later write, "in more ways than one, has been that of the shape-shifter. . . ." He fell in love with poetry at an early age, and his father's theatrical background assured that he would always understand both its performative aspect and its potential relationship to song. But the path to his own distinctive contribution would be a long one.

Foley attended Cornell University on a scholarship from Western Union. While a student, he met and married Adelle Abramowitz, also a poet. In 1963 they moved to Berkeley, California, where he had a Woodrow Wilson Fellowship for graduate study at the university, and she found a job with the Federal Reserve Bank. Over the next decade, Foley's dissatisfaction with academic life increased, as he became more aware of the still thriving bohemian literary culture in the Bay Area. In 1974 his son, Sean Ezra, was born. His wife kept working at the bank, and Foley stayed at home as a house-husband. While making one last effort to research a Ph.D. dissertation on Shakespeare's Cymbeline, Foley came across Charles Olson's The Maximus Poems, which redirected his own efforts to write poems and convinced him to drop out of academic life. Immersing himself in the Bay Area poetry scene, Foley got to know most of the major figures of the San Francisco Renaissance, including Allen Ginsberg, Robert Duncan, Lawrence Ferlinghetti, and Michael McClure. His own poetry grew out of their experimental concerns and procedures, but it increasingly emphasized the spoken medium as well as the printed page.

Foley's performance-based aesthetic, which often uses multiple voices, made conventional publication of his work problematic. Eventually he would include cassette tapes or CDs with most of his books. "Performance poetry," he has written, "is an insistence that absence, silence and whiteness -- the page -- are not the only conditions in which poetry can be 'heard.'" His criticism also has an unusually performative aspect. In 1988 he took charge of poetry programming on Berkeley's listener-sponsored radio station, KPFA-FM, where he currently hosts a weekly literary show, Cover to Cover. On KPFA he often reads long, carefully scripted essays designed for radio broadcast.

Foley is a prolific poet. Among his many collections of verse are Letters/Lights -- Words for Adelle (1987), Gershwin (1991), Adrift (1993), Exiles (1996), Advice to the Lovelorn (1998), and Life (2014). A short selected volume, Greatest Hits: 1974-2003, appeared in 2004. Foley also collaborated with his wife Adelle on Fennell in the Rain (2007). She often performed with him, providing the second voice in his multi-voice poems. After her death in 2016, Foley published Grief Songs (2017), a book of elegies.

Foley is also an active, original, and prolific critic. He served as editor of Poetry USA, the periodical of the National Poetry Association, from 1990 to 1995, and has been a contributing editor to Poetry Flash, the Bay Area calendar and review. In 1998 he began a regular book column, "Foley's Books," for the online magazine Alsop Review. Posting a substantial essay--review nearly every week—often based on his weekly radio broadcast. For eight busy years "Foley's Books" became the most ambitious and comprehensive critical coverage of West Coast poetry. During that period he also published O Her Blackness Sparkles! (1995), a history of San Francisco's influential Batman Art Gallery, O Powerful Western Star: Poetry & Art in California (2000), Foley's Books: California Rebels, Beats & Radicals (2000), and The "Fallen Western Star" Wars (2001). Published by tiny presses and difficult to obtain, these books established Foley's reputation among a coterie as the most ambitious chronicler of contemporary California letters. In the San Francisco Chronicle, David Kipen called O Powerful Western Star, "a galvanizing work . . . an unparalleled cultural history of the past half century from Bodega Bay to the Pacheco Pass."

Foley's criticism is sharply written, boldly theoretical, and historically informed. One of his most interesting enterprises has been to examine the impact of technology on literary culture. In his provocative 2000 essay, "'What About All This . . . ': Speculations on Poetry and My Relationship to It," Foley argued that print culture, which had long dominated the art of poetry, faced a serious challenge from a new kind of orality fostered by the electronic media. This cultural shift, he suggested, had enormous implications for literature. His range of references, both eclectic and scholarly, was typical of Foley's richly assimilative mind. These views may have been considered eccentric when Foley first aired them twenty years ago; today they seem prophetic of recent developments in American poetry.

Foley's fascination with literary form gradually influenced his critical procedures. In O Powerful Western Star, he used the form of the chronological list to examine the changes of Bay Area literary culture. He expanded the notion into Visions & Affiliations, a massive two-volume time line sequentially but disjunctively charting postwar California literary history. In the process he wrote a major critical work in an innovative and original form.

Foley has never published a book with a major press. He has never won a national award. He has never held an academic job. His work is rarely cited in scholarly literature. Like many of the California authors he discusses, Foley's reputation remains mostly limited to the San Francisco Bay area. He received a Lifetime Achievement Award from the Berkeley Poetry Festival, and in 2010 the city of Berkeley declared a "Jack Foley Day." Still writing and broadcasting, he lives in Oakland, California with the poet Sangye Land.

~~ David Mason


~~~~~~~~~

Read more about Jack Foley.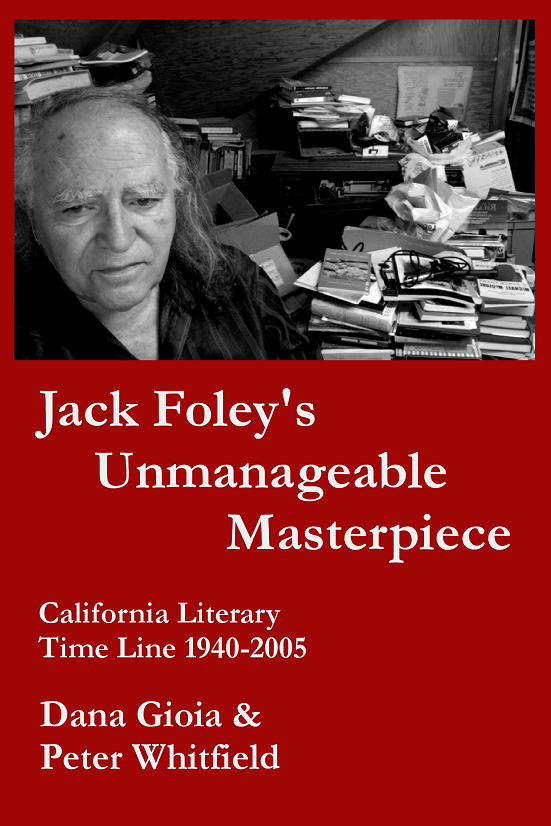 . click to order